Health & Wellness
|
Burnout
Employee Burnout on the Rise Puts Focus on Mental Health in the Workplace
Posted by: Dean & Draper Insurance Agency | November 22, 2021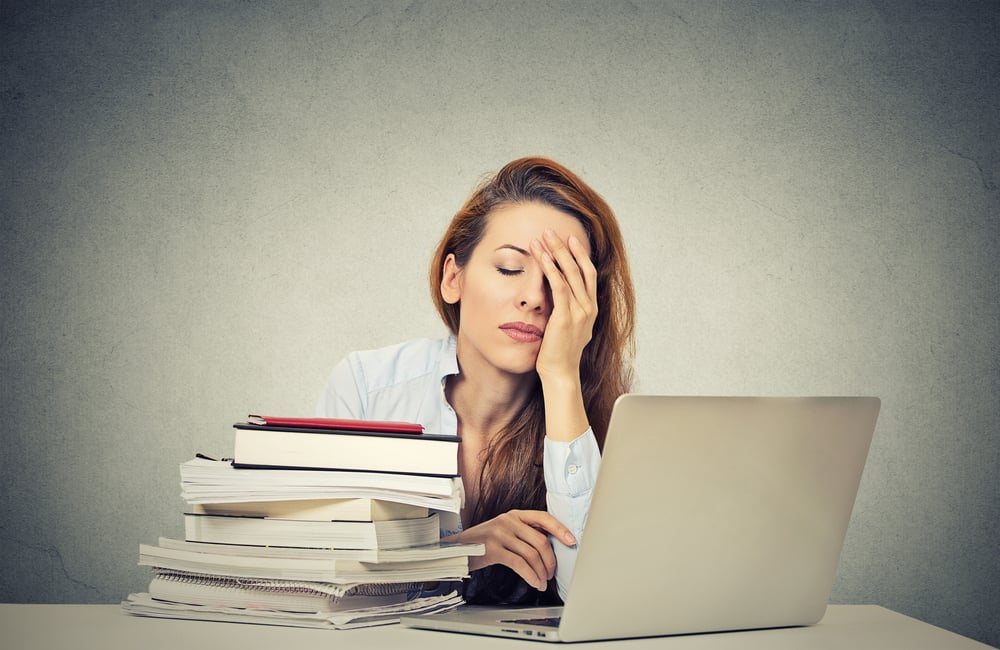 Recent research shows that almost half to two-thirds of employees are feeling burned out on the job, putting a rising focus on mental health in the workplace.
The alarming employee burnout numbers include:
"Those dire statistics have pushed mental health to the forefront at organizations and served as a rallying cry for employers, with many adding programs and benefits to help," wrote Kathryn Mayer in Human Resource Executive.
Mental Health in the Workplace a Long-Term Issue
"After enduring more than a year of long hours and little time off, many workers are feeling burned out and need a break to relax and refresh," said Paul McDonald, senior executive director at Robert Half. "Running on empty can have a negative effect on employees' mental health and well-being, and managers should make it a priority to encourage their teams to enjoy a well-deserved vacation."
While the pandemic has exacerbated employee burnout, mental health in the work environment was an important topic long before COVID-19 and employers will need to be aware of and address mental health workplace issues long after coronavirus has faded.
"I think it's important to note that this is not an issue that will be solved with a single initiative," Dan Healey, head of HR at SAP, told Human Resource Executive. "To prioritize mental health means to support employees for the long-term and continue to adopt benefits and initiatives that reflect their needs."
Employee Burnout Warning Signs Employers Should be Aware of
The World Health Organization defines employee burnout as "a syndrome conceptualized as resulting from chronic workplace stress that has not been successfully managed."
"Employee burnout doesn't happen overnight," Heidi Lynne Kurter writes in Forbes. "It's a series of triggers that occur over time causing even the most passionate employee to become disengaged."
Kurter says employers should look for the following employee burnout warning signs:
Decreased productivity

Detached from the workplace culture

Inability to make decisions

Increased absenteeism

Increased mistakes and poor memory

Increased negativity and cynical outlook

Irritable and more sensitive to feedback

Loss of motivation and enthusiasm for their job

Poor sleep habits
Ways Employers Can Reverse Burnout Through Mental Health Initiatives
The Centers for Disease Control and Prevention (CDC) says that "the workplace can be a key location for activities designed to improve wellbeing among adults."
CDC research shows that mental illnesses such as depression are associated with higher rates of disability and unemployment:
Depression interferes with a person's ability to complete physical job tasks about 20 percent of the time and reduces cognitive performance about 35 percent of the time.

Only 57 percent of employees who report moderate depression and 40 percent of those who report severe depression receive treatment to control depression symptoms.
CDC says the workplace is an optimal setting to create a culture of health and employers can take the following actions to address mental health issues:
Make mental health self-assessment

tools available to all employees.

Offer free or

subsidized clinical screenings for depression from a qualified mental health professional, followed by directed feedback and clinical referral when appropriate.

Offer health insurance with no or

low out-of-pocket costs for depression medications and mental health counseling.

Provide

free or subsidized lifestyle coaching, counseling, or self-management programs.

Distribute materials, such as brochures, fliers,

and videos, to all employees about the signs and symptoms of poor mental health and opportunities for treatment.

Host

seminars or workshops that address depression and stress management techniques, like mindfulness, breathing exercises, and meditation, to help employees reduce anxiety and stress and improve focus and motivation.

Create and

maintain dedicated, quiet spaces for relaxation activities.

Provide managers with training to help them

recognize the signs and symptoms of stress and depression in team members and encourage them to seek help from qualified mental health professionals.

Give employees opportunities

to participate in decisions about issues that affect job stress.
Employee Benefits and Policies Can Fight Burnout, Bolter Mental Health
Forbes reported that a Visier survey found "more than two-thirds (70 percent) of employees said they would leave their current job for a different one that offered comprehensive resources, benefits, support or policies intended to reduce burnout."
According to the survey the benefits that would most help employees the most:
Flexible work hours for all employees (39 percent)

Mental health resources/support (31 percent)

Paid sick days (25 percent)

Wellness program (24 percent)

4-day work week (24 percent)

Gym/fitness membership or discount (22 percent)

Work from home options (21 percent)

Employee care and appreciation gifts/programs (21 percent)

Unlimited paid time off policy (20 percent)

Flexible work hours for parents/guardians (20 percent)
"Our data indicates almost all employees struggle with burnout from time to time, so it's crucial to have the right policies, processes, and technologies in place to support them," the survey authors said.
General policies should include setting work/life boundaries and emphasizing exercise, sleep, and other stress-reducing activities.
Human Resource Executive polled HR leaders and found these strategies being utilized:
Encourage workers to take time off

Be aware of Zoom overload

Survey employees

Make sure you are offering the right benefits and resources
According to the article: "Mental health benefits and programs, as well as benefits that take direct aim at common pain points that affect employees' mental health—like caregiving support, financial wellness programs and more—can be beneficial, experts say."
Contact Dean & Draper today to find out how we can help your company offer a customized, competitive employee benefits solution that offers the best terms and coverage for both you and your employees.
Dean & Draper is a Trusted Choice insurance agency representing over 200 insurance companies. For over 36 years we have offered a trusted freedom of choice to our clients. ContactUs.
The recommendation(s), advice and contents of this material are provided for informational purposes only and do not purport to address every possible legal obligation, hazard, code violation, loss potential or exception to good practice. Dean & Draper Insurance Agency specifically disclaims any warranty or representation that acceptance of any recommendations or advice contained herein will make any premises, property or operation safe or in compliance with any law or regulation. Under no circumstances should this material or your acceptance of any recommendations or advice contained herein be construed as establishing the existence or availability of any insurance coverage with Dean & Draper Insurance Agency. By providing this information to you, Dean & Draper Insurance Agency does not assume (and specifically disclaims) any duty, undertaking or responsibility to you. The decision to accept or implement any recommendation(s) or advice contained in this material must be made by you.
©2021 Dean & Draper Insurance Agency All Rights Reserved.