Employee benefits
Importance of Employee Benefits in Today's Tight Labor Market
Posted by: Communications Team | January 31, 2022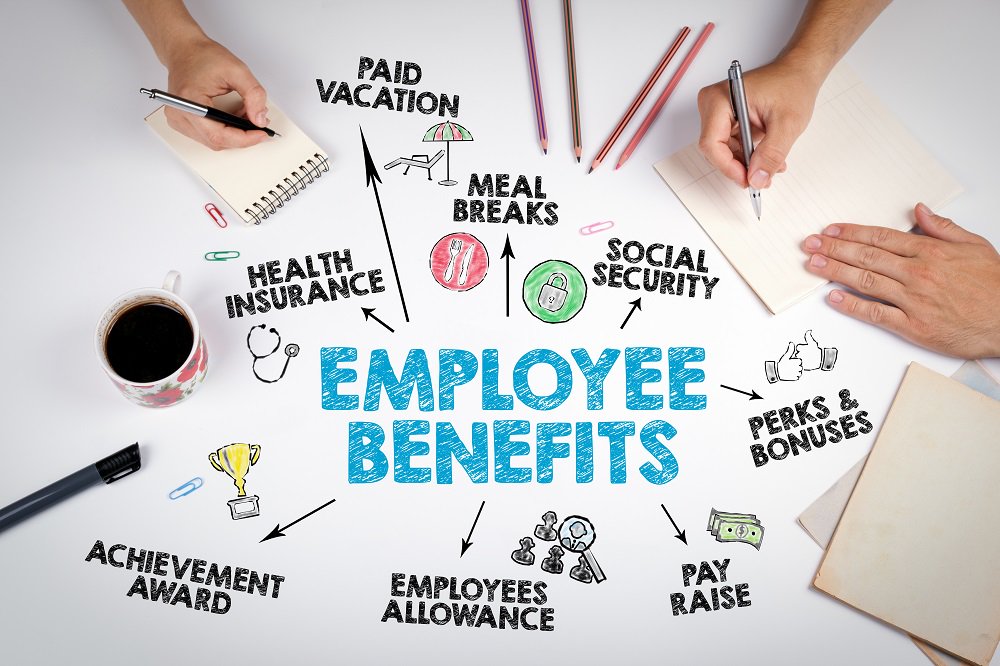 Employee benefits are more important than ever as companies fight to hire and retain workers in the tightest labor market in memory.
"The labor market remains historically tight, with the number of unemployment-benefits filings holding last week around the lowest levels in five decades as firms struggled to remain fully staffed amid a resurgent pandemic," reported the Wall Street Journal earlier this month.
The unemployment rate declined to 3.9 percent in December, according to the U.S. Bureau of Labor Statistics.
"Job openings are trending near record highs and an unprecedented number of Americans have been quitting their jobs in recent months, including 4.5 million in November," reported the Wall Street Journal. "There have been more than 10 million job openings every month since June 2021, according to data from the Labor Department and jobs site Indeed. The imbalance between job seekers and open jobs has gotten so extreme that in November there were roughly two available unemployed workers for every three openings."
"Great Resignation" Puts Benefits in the Spotlight
The COVID-19 pandemic spurred what is being called "The Great Resignation" as workers are showing increased willingness to leave their jobs.
"Ultimately, with the demand for talent so far outstripping supply, and a third of U.S. workers considering a job change in the next year, employers are being forced to pay more attention than ever to their workers' expectations and desires, as well as their emotional and physical well-being in the workplace. Together, these trends are redefining the workplace benefits market," says PLANSPONSR magazine.
Wilmington Trust in its "2022 Capital Markets Forecast" says that the U.S. labor market not only has become historically tight, but the change occurred rapidly, leaving many employers unprepared to fill their open positions.
As a result, increased pay and enhanced benefits are in the spotlight to hire and retain employees.
"Companies are accessing new workers by sweetening the pot and expanding the pool. Companies across industries—particularly in lower-skilled areas like restaurants and hospitality—are raising hourly wages, adding sign-on or referral bonuses, and enhancing benefits," said Wilmington Trust.
Benefits Can Sweeten the Post for Employees
While cash will likely always be king when it comes to attracting employees, benefits such as flexible work schedules and remote work are getting the royal treatment.
"With workers quitting their jobs at record rates, many employers are introducing new benefits and enabling more flexible schedules in response to the continued tight labor market," writes Stephen Miller for the Society for Human Resource Management.
SHRM found companies are offering revamped benefits to remain competitive.
Accounting and advisory firm KPMG, for example, announced in October the following benefit changes:
Automatic 401(k) contributions of up to 8 percent of a worker's pay instead of matching employee contributions
10 percent reduction in health care premiums for 2022
Added health care advocacy services
12 weeks of paid parental leave to bond with a new child
Up to three weeks of additional paid caregiver leave
New caregiver concierge programs
Expanded employee recognition program
Meanwhile, investment banking firm Goldman Sachs Group announced:
Increasing its retirement fund matching contributions for U.S. employees to 6 percent of total compensation, or 8 percent for employees making $125,000 a year or less
Eliminating the one-year waiting period before matching employee contributions
Introducing six weeks of unpaid sabbatical for employees with at least 15 years at the firm.
20 days of paid leave for pregnancy loss (including spouses)
20 days bereavement leave for the loss of an immediate family member and five days paid leave for the loss of a non-immediate family member.
"It's a candidate's market, and organizations must respond by recognizing the need to think differently in how to recruit and retain talent, revisiting benefits and flexible work schedules, along with broadening the talent pool for open positions," said Johnny C. Taylor, Jr., SHRM's president and CEO.
Types of Benefits that Companies Can Offer Employees
Employee benefits are constantly evolving, and companies have many programs and perks they can offer workers.
Of course, the traditional big four benefits for employees remain:
Health insurance such as medical, dental and vision
Life insurance
Disability insurance
Retirement plans
Diving deeper into benefits, the Academy to Innovate HR says there are four distinct categories of employee benefits:
Benefits at Work
Work hours and leave (flextime, remote work, holidays, paid parental leave, etc.)
Skills Development
Food and Beverage (such as free lunches)
Employee clubs, activities, and gifts
Benefits for Health
Health and Wellness programs
Healthcare not covered in medical plans such as chiropractic and physiotherapy sessions
Benefits for Financial Security
Insurances such as health insurance, life insurance and disability insurance
Pension plans and retirement plans
Financial benefits such as bonuses and company stock programs
Employee personal financial wellness programs
Lifestyle Benefits
Work-life balance such as childcare, and grocery delivery
Mobility benefits including public transport, cars, and bikes.
HR tech company Benify found in its 2019 Employee Happiness Index that benefits that were important and appreciated the most varied depending on the age of the worker.
While pension was most important to Baby Boomers, the younger generations all had "working hours and leave" and "health and wellness" as more important benefits than pension.
When it came to those benefits most appreciated by employees, "health and wellness" scored high across all groups – the most appreciated benefit by Baby Boomers, Gen X and Gen Z, and second most appreciated by Millennials.
Skills development is also a benefit appreciated and important to younger generations.
Anthony Klotz, the organizational psychologist, and professor at Texas A&M University, who coined the phrase "The Great Resignation", even thinks that the current employer response, such as better benefits, may help prevent another big quitting wave in 2022.
According to the Wall Street Journal: "the tight labor market has pushed companies to offer better benefits and higher salaries, which Klotz says will keep employee turnover from being "completely rampant" in the months ahead."
Contact Dean & Draper today to find out how we can help your company offer a customized, competitive employee benefits solution that offers the best terms and coverage for both you and your employees.
Dean & Draper is a Trusted Choice insurance agency representing over 200 insurance companies. For over 36 years we have offered a trusted freedom of choice to our clients. Contact Us.
The recommendation(s), advice and contents of this material are provided for informational purposes only and do not purport to address every possible legal obligation, hazard, code violation, loss potential or exception to good practice. Dean & Draper Insurance Agency specifically disclaims any warranty or representation that acceptance of any recommendations or advice contained herein will make any premises, property or operation safe or in compliance with any law or regulation. Under no circumstances should this material or your acceptance of any recommendations or advice contained herein be construed as establishing the existence or availability of any insurance coverage with Dean & Draper Insurance Agency. By providing this information to you, Dean & Draper Insurance Agency does not assume (and specifically disclaims) any duty, undertaking or responsibility to you. The decision to accept or implement any recommendation(s) or advice contained in this material must be made by you.
©2022 Dean & Draper Insurance Agency All Rights Reserved.