Liability
Does Motorcycle Insurance Exist?
Posted by: Communications Team | September 16, 2022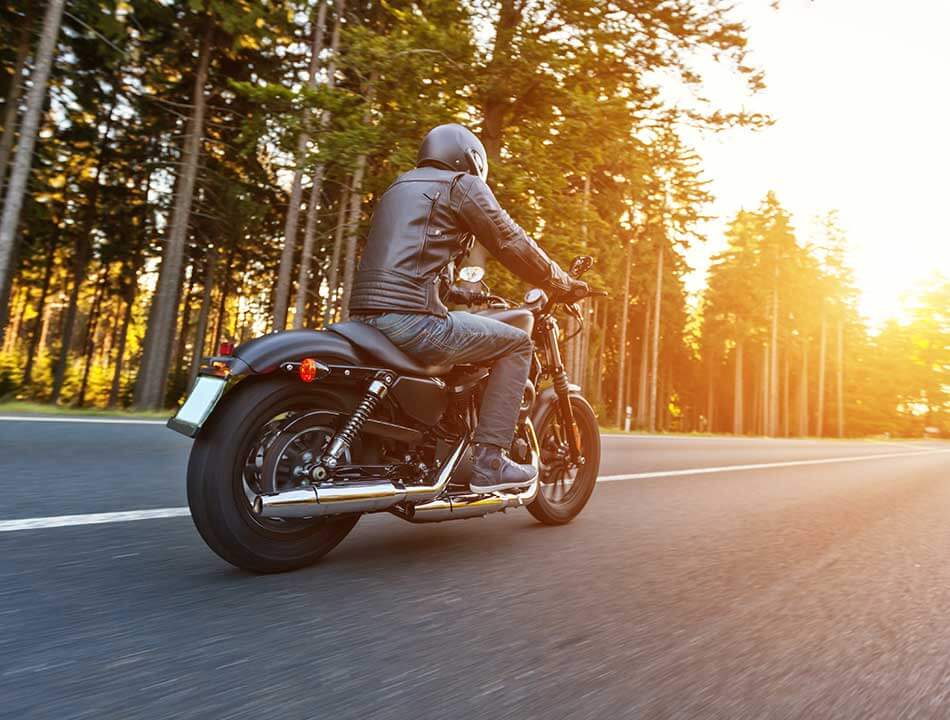 Americans love hitting the open road on two wheels from daily riders commuting to work to weekend warriors cursing over the back roads.
Motorcycle aficionados and the bikes they ride range in all shapes, sizes, and price ranges.
One thing they have in common, however, from vintage Moto Guzzi to brand new Moped owners is that they need more protection than just a trusty helmet – they need special motorcycle insurance.
"Whether you've just purchased your first motorcycle, or you're an experienced driver looking for a better rate, the last thing you want to worry about is if you can afford an accident," Dean & Draper President and CEO Kyle Dean said. "A good insurance agent can help you ensure your beloved bike, and personal safety, with a motorcycle insurance plan that makes the most sense for you."
Motorcycle policies, like two (and three!) wheeled vehicles such as scooters, trikes, cruisers, street bikes and more, come in all varieties.
Motorcycles Gaining Popularity as Gas Prices Rise
Motorcycles have been gaining popularity in the United States in recent years, and that trend gained a turbo boost this year as gas prices skyrocketed at the pump.
While the average motor vehicle gets less than 25 miles per gallon on the road, motorcycles can clip down the highways and byways getting a wallet-friendly 50 to 60 miles to gallon.
Statista says the motorcycles will continue to be a popular choice with the following project growth:
Revenue in motorcycles market is projected to reach $5.13 billion in 2022
Annual growth of 5.78 percent to reach $6.42 billion by 2026
Unit sales will reach 538,260 by 2026 led by ever popular Harley-Davidson brand
Motorcycles: Thrills and Some Chills on the Road
Motorcycles, by their very nature, offer less protection to drivers and passengers between themselves and the road, and crashes can be quite dangerous, and sometimes fatal.
Motorcycle Sport World points out that while passenger cars are involved in fatal crashes at a rate of 1.42 per every 100 million miles traveled in 2019, the rate for motorcycles was 25.98 per every million miles – almost 20 times higher.
Other sobering statistics to ponder from Motorcycle Sport World:
You are about 30 times more likely to die in a motorcycle accident than in a car accident.
Motorcycle accidents show an astonishing 80 percent injury or mortality rate, while car accidents are around 20 percent.
Motorcyclists over the age of 40 are injured in accidents about 20 times more often than drivers of the same age.
Most common cause of motorcycle accidents:
o Alcohol and drug impairment.
o Distracted driving.
o Reckless driving.
o Speeding.
o Road rage.
o Poor or impaired visibility.
o Drowsy or sleepy.
o Improper lane use
Most common injuries suffered in motorcycle accidents:
o Lower extremity injuries occurred in 47 percent of collisions.
o Upper extremity injuries occurred in 40 percent of collisions.
o Head injuries occurred in 35 percent of collisions.
o Chest injuries occurred in 31 percent of collisions.
o Spine injuries occurred in 20 percent of collisions.
o Abdomen injuries occurred in 15 percent of collisions.
o Face injuries occurred in 10 percent of collisions.
Motorcycle Insurance Can Help Protect You
Given these statistics, it is imperative that motorcycle owners have the proper motorcycle insurance coverage to protect themselves and their rides.
"Choosing the right insurance policy is much like choosing the right motorcycle. You want it to fit your needs and lifestyle—and to be within your budget," says the Insurance Information Institute (III).
Dean points out that motorcycle insurance can help protect you and your motorcycle from:
Costs associated with bodily injury to yourself, or others involved in the accident.
Costs of any property damage you caused with your motorcycle.
Costs associated with motorcycle theft or vandalism.
Costs of damage sustained while your bike is in storage. (e.g., water or smoke damage)
Breaking Down Types of Motorcycle Insurance Coverage
While most states require motorcycle riders to carry a minimum amount of liability coverage, there is a wide latitude about the type of motorcycle insurance coverage that can be purchased.
The III breaks down motorcycle coverage options into:
Liability insurance: Covers bodily injury and property damage that you may cause to other people involved in an accident. It doesn't cover injury to you or damage to your motorcycle. Guest Passenger Liability, which provides protection if a passenger is injured on your motorcycle, may also be available in some states.
Motorcycle collision insurance: Covers damage to your motorcycle if you are involved in a collision with another vehicle. Your insurance company pays for damages (usually the book value of your bike before the loss occurred), minus your deductible.
Comprehensive coverage: Pays for damages caused by an event other than a collision, such as fire, theft or vandalism. Like collision coverage, your insurance company will pay for damages, minus your deductible, and will cover only the book value of the motorcycle.
Coverage for customized motorcycle parts: Comprehensive and collision policies may only cover factory-standard parts, or they will limit the coverage. If you have optional accessories such as chrome parts, a custom paint job, trailers or sidecars, you should check with your insurance agent to understand the limits of your coverage.
Uninsured/underinsured motorist (UM/UIM) coverage: Pays for damages to you and/or your property caused by another driver who either doesn't have insurance (uninsured) or doesn't have adequate insurance (underinsured). UM/UIM policies typically pay for medical treatment, lost wages and, in some cases, property damage.
Factors that Will Affect Your Motorcycle Insurance Costs
What factors can affect my motorcycle cost?
Insurance providers will take the following into consideration when pricing your premiums:
Your age and driving record.
Where you live and how many miles you ride each year.
The type of motorcycle that you own and how hold it is.
Where you store or house your motorcycle.
If you own more than one motorcycle, you could qualify for multi-bike discounts.
Riders can gain discounts by taking training courses – this can especially help younger rider save costs.
In some areas of the country, you can get a discount for the months where your bike is put away because of weather conditions.
Contact Dean & Draper today to make sure you have the best motorcycle insurance available.
Dean & Draper is a Trusted Choice insurance agency representing numerous insurance companies. For over 40 years we have offered a trusted freedom of choice to our clients. Contact Dean & Draper today.
The recommendation(s), advice and contents of this material are provided for informational purposes only and do not purport to address every possible legal obligation, hazard, code violation, loss potential or exception to good practice. Dean & Draper Insurance Agency specifically disclaims any warranty or representation that acceptance of any recommendations or advice contained herein will make any premises, property or operation safe or in compliance with any law or regulation. Under no circumstances should this material or your acceptance of any recommendations or advice contained herein be construed as establishing the existence or availability of any insurance coverage with Dean & Draper Insurance Agency. By providing this information to you, Dean & Draper Insurance Agency does not assume (and specifically disclaims) any duty, undertaking or responsibility to you. The decision to accept or implement any recommendation(s) or advice contained in this material must be made by you.
©2022 Dean & Draper Insurance Agency All Rights Reserved.