Health & Wellness
Enhancing Wellness Programs Can Create a Positive Company Culture
Posted by: Dean & Draper Insurance Agency | April 27, 2022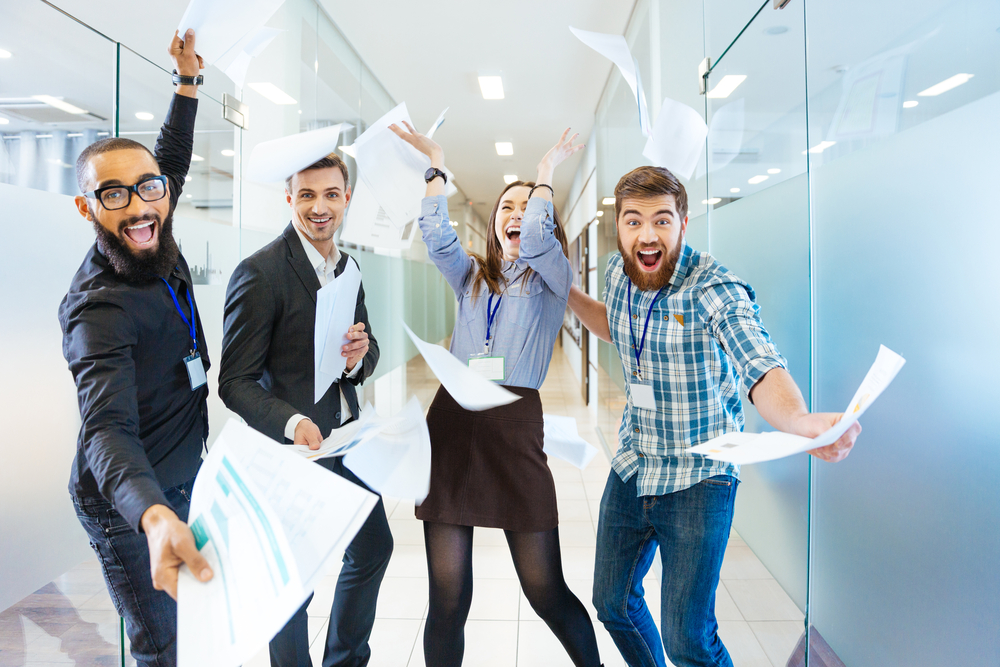 In the past two years the lines between work and home life have become blurred, making it harder for companies to maintain their workplace culture and keep employees engaged.
Facing an unprecedented worldwide health crisis, employee wellness programs took on a priority like never before and they continue to be a key component for businesses looking to establish a positive company culture.
"The workplace is forever changed. The lines between our home and work lives have blurred and intersected in ways we could have never imagined and with profound reverberations," wrote Great Place to Work CEO Michael C. Bush in Fortune.
A culture-first mentality that focuses on employees' physical, mental, and financial health is not only good for the worker, but good for productivity and overall organizational well-being.
"Every C-suite executive now fully realizes the correlation of their workforce's health and well-being to the overall success of their business," said president and CEO of Business Group on Health Ellen Kelsay. "As people return to work in this new landscape, employers will be flexible and empathetic in supporting them as much as possible."
Aligning Wellness Programs with Company Mission
Wellness programs should be integrated to the extent that they align with your company's overall mission and strengthen company culture.
"That vision creates more productive employees, focusing on their total quality life, from work/life balance to physical and mental health, to social, financial and spiritual wellbeing," writes Chris Boyce in Wired. "To get the best from employees, employers must care about their employees beyond the corporate walls and support them across all aspects of their lives."
Boyce said wellness programs should be:
Engaging
Social
Fun
Part of everyone's day-to-day life
"Less time stressing about daily burdens, from workouts to 401Ks, and freeing up more time to do quality work. Wellness, after all, is the balance of stress-free health and accomplishment. First, you must understand your employees and their needs and start building from there," says Boyce.
Evolving Wellness Programs to Meet Employee Needs
Employers have no choice but to evolve their wellness programs to meet the demands and needs of employees that have recently changed.
"Employers are facing a unique set of challenges as employees return and re-adjust to a more traditional work environment, and we're encouraged to see so many employers, including Fidelity, evolving their employee well-being programs to address the needs of their workers," said Robert Kennedy, health and welfare practice leader at Fidelity Workplace Consulting.
A 2022 Employer-Sponsored Health & Well-being Survey by the Business Group on Health found that 83 percent of employers agreed that employee well-being (mental health, physical health, and work-life balance benefits) would be a priority in 2022.
An Alight's Employee Wellbeing Mindset Study found that 83 percent of employees agreed that employer-provided wellbeing programs enhance their employment experience.
"The statistics shown in Alight's survey indicated that employer-sponsored health plans and wellbeing programs can improve the lives of employees," wrote Victoria Bailey in HealthPayer Intelligence.
Good Vibrations: Company Culture Built on Positive Feelings
What exactly defines "company culture" can be hard to explain because it involves how employees "feel" about the company.
The link between wellness benefits and company culture is that 84 percent of the employees in the Alight survey said that wellbeing programs made them feel better about their employer.
"That vibe of creating "social good" is contagious and it's likely that the entire organization will feel motivated and engaged as a result. People feel proud about working for a company that demonstrates it cares about its employees and what's important to them. It's a win/win," wrote Boyce.
Boyce says creating a positive company culture comes from the top as he calls your CEO the "chief engagement office."
"This CEO must think of creative ways to help employees meet their personal goals while at work," write Boyce.
Employees Want More from their Work in 2022
Your company culture must meet the expectations of employees, especially younger generations, that are expecting more from their work in 2022 than just a paycheck.
"The events of the past two years have prompted a massive reprioritization of American lives, fueling an epic labor shortage. Workers are reevaluating their lives, quitting to find more rewarding jobs, taking career sabbaticals, or starting their own businesses. They're no longer tolerating bad bosses, inequities, burnout, and lack of purpose and meaning at work," wrote Bush. "They are demanding to be supported and seen—their full selves and their full lives—by their employer."
Bush says the best companies take a holistic view of workers, supporting their full lives including:
Families
Communities
Personal lives outside of work
The result can benefit the businesses in numerous ways, including not only a lower turnover rate – key in a tight labor market – but employees are six times more likely to help recruit talent to their company.
Great Place to Work research also found that:
80 percent of employees on best companies list look forward to coming to work and feel psychologically and emotionally healthy
90 percent say their company is a great place to work and they feel cared for
In contrast, at average workplaces, only 52 percent of employees feel management sincerely cares about them as a person
"As with our personal lives, we want to be seen, heard, and know that we matter. Work is no different," writes Bush.
Dean & Draper is a Trusted Choice insurance agency representing numerous insurance companies. For over 40 years we have offered a trusted freedom of choice to our clients. Contact Us.
The recommendation(s), advice and contents of this material are provided for informational purposes only and do not purport to address every possible legal obligation, hazard, code violation, loss potential or exception to good practice. Dean & Draper Insurance Agency specifically disclaims any warranty or representation that acceptance of any recommendations or advice contained herein will make any premises, property or operation safe or in compliance with any law or regulation. Under no circumstances should this material or your acceptance of any recommendations or advice contained herein be construed as establishing the existence or availability of any insurance coverage with Dean & Draper Insurance Agency. By providing this information to you, Dean & Draper Insurance Agency does not assume (and specifically disclaims) any duty, undertaking or responsibility to you. The decision to accept or implement any recommendation(s) or advice contained in this material must be made by you.
©2022 Dean & Draper Insurance Agency All Rights Reserved.