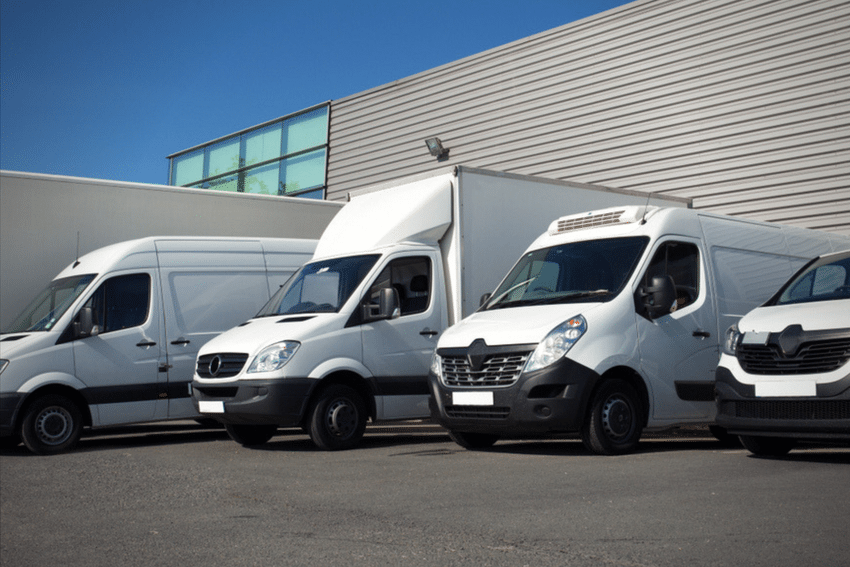 The more than 8 million fleet vehicles in the United States come in all shapes and sizes from smart cars to cargo vans to semi-trailer trucks, but they all have one thing in common: they need to be insured to protect your business assets.
It is a numbers game, after all, as the more time your fleet vehicles spend on the road, the greater chance your company will be exposed to the risk and liability that comes with an accident.
"The annual accident rate for commercial fleets is around 20 percent, with some industries, such as pharmaceuticals, even higher. One reason for the high frequency of accidents for fleet drivers is because of the number of miles they drive per year," said Automotive Fleet. "A typical non-fleet driver in the U.S. travels 12,000 to 15,000 miles annually, and each year has a one in 15 chance of being involved in a vehicle collision. Most fleet drivers, however, travel 20,000 to 25,000 miles or more each year, and thus have a greater exposure to crash risks."
Fleet Vehicles: The Cost of Doing Business
The cost of not having the proper fleet vehicle insurance can be devastating for a business with DriveSafe Online estimating that the average cost for an accident involving a driver in your fleet is $74,000, but that figure jumps to $500,000 if the crash causes a fatality.
"Vehicle accidents cost employers $60 billion each year in legal and medical expenses, property damage, and lost employee productivity," says DriveSafe.
While inflation and supply chain issues have combined to skyrocket the cost of new and used vehicles, the cost of repairing or replacing a vehicle may just be the starting point for the financial implications involving an accident.
"Legal implications are another key area to consider, with the total cost of a fleet insurance claim being estimated up to 36 times higher than just the cost of repairing a vehicle," said the Together for a Safer Roads campaign.
What Defines a Fleet Vehicle?
Your business fleet may be as small as two cars servicing a small town to 2,000 vehicles working across multiple states.
"A fleet vehicle is any motorized asset used by a company to transport people and products, conduct business, or assist with daily activity," says Coast, a solution for managing fleet expenses. "A fleet can consist of any number of vehicles – 2, 5, 10, 25, 50, or more."
Coast says businesses operate fleet vehicles based on the type and amount of cargo intended to transport, as well as distance that must be covered. Physical specifications for fleet vehicles might include:
Type of vehicle (e.g., car, SUV, pickup truck, passenger, van, bus, box truck, etc.)
Size of vehicle (e.g., mid-size or full-size cargo van)
Horsepower
Passenger capacity
Payload capacity
Towing capacity
Depending on budget constraints, companies must choose between leasing and purchasing their fleet vehicles.
How Many Vehicles Do I Need to Have a Fleet?
The number of vehicles in your fleet will matter when it comes to "fleet status" with auto and truck manufacturers, and for qualifying for fleet insurance with insurance providers.
According to businessfleet.com, "generally, for most of the domestic manufacturers, companies qualify by:
Having 15 vehicles registered in the company name or
Having purchased or leased 5 or more new vehicles during the current or preceding calendar year, model year or preceding 12-month period
According to automotive-fleet.com, as of 2019, there cars and class 1-5 trucks in service as part of fleets according to the above definition included:
Commercial: 3.2 million vehicles including 431,000 leased cars, 727,000 leased trucks, 204,000 owned cars and 1,860,000 owned trucks.
Government: 3 million vehicles including 22,000 leased cars, 48,000 leased trucks, 1,195,000 owned cars, and 1,730,000 owned trucks.
Rental: 2.3 million vehicles including 1,780,000 cars and 475,000 trucks.
Fleet vehicle insurance can fall into small fleet and large fleet categories with each insurance company setting their own standards.
Different providers may require your fleet to have 2, 3, 4, 5 or more vehicles to qualify for small fleet coverage. Large fleet coverage can start at 20 or 30 vehicles, depending on the provider.
Benefits of Fleet Insurance for Your Company Vehicles
Fleet insurance can help companies mitigate the risks of operating their fleets and protect their business assets.
"Fleet insurance allows organizations to protect all of their assets under a single policy. Not only is fleet insurance less expensive than holding individual policies for each vehicle, but fleet insurance also caters to the specific needs of businesses," says Fleetio.
The benefits of fleet vehicle insurance include:
Simplicity: One policy to cover all your business vehicles vs. a separate commercial policy for each vehicle. This makes fleet management easier, including yearly renewals.
Cost: Typically, your insurance costs will be less by placing all your vehicles under a single fleet policy vs. having each vehicle individually insured with a commercial auto policy.
Driver flexibility: Most fleet insurance policies cover your vehicles in a way that allows coverage, no matter the driver. You do not have to list the individual drivers on the policy, like normal auto coverage.
"When choosing the right coverage for your fleet, think about the risks associated with the types of assets in your fleet. Leverage any fleet data you have available, consider your surroundings and speak with insurance professionals to determine what is best for your fleet," says Fleetio.
Types of Fleet Vehicle Insurance Coverage
According to Motor1.com, the main types of fleet vehicle insurance start with the minimum coverage required by state and federal regulations such as:
Bodily injury: Covers the cost of treating any physical injuries that may arise from vehicle operation
Property damage: Covers the cost of paying for any property damage that may arise from vehicle operation
Combined: When bodily injury and property damage are combined it is called a Combined Single Limit liability, providing a single dollar limit for both bodily injury and property claims against your fleet
Other fleet vehicle insurance coverage that companies can opt for include:
Collision: Pay for cost of repairs or vehicle replacement that may arise from vehicle operation.
Comprehensive: Covers cost of repairs to a vehicle not involved in an accident buy caused by severe weather, theft, vandalism, fallen tree limbs, bad roads, animal strikes and other events
Uninsured Motorist: Covers cost of repairs, medical treatment, and legal proceedings if a vehicle in your fleet is involved in an accident and the other driver does not have insurance.
Dean & Draper can help your company design a complete risk management program that includes making sure you have the right fleet vehicle insurance coverage.
Dean & Draper is a Trusted Choice insurance agency representing numerous insurance companies. For over 40 years we have offered a trusted freedom of choice to our clients. Contact Dean & Draper today.
The recommendation(s), advice and contents of this material are provided for informational purposes only and do not purport to address every possible legal obligation, hazard, code violation, loss potential or exception to good practice. Dean & Draper Insurance Agency specifically disclaims any warranty or representation that acceptance of any recommendations or advice contained herein will make any premises, property or operation safe or in compliance with any law or regulation. Under no circumstances should this material or your acceptance of any recommendations or advice contained herein be construed as establishing the existence or availability of any insurance coverage with Dean & Draper Insurance Agency. By providing this information to you, Dean & Draper Insurance Agency does not assume (and specifically disclaims) any duty, undertaking or responsibility to you. The decision to accept or implement any recommendation(s) or advice contained in this material must be made by you.
©2022 Dean & Draper Insurance Agency All Rights Reserved.