Liability
|
Home Insurance
Protecting Your Summer Fun: Insurance for Your Lake House, Boat, Watercraft
Posted by: Dean & Draper Insurance Agency | July 5, 2023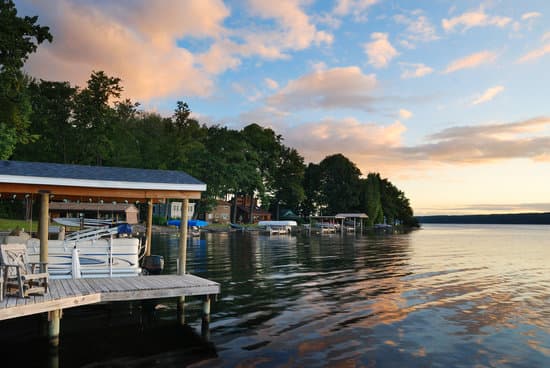 Summertime is best enjoyed sitting on the dock of a lake house, dropping a line in the clear water from a boat, and making exhilarating family vacation memories on personal watercraft.
For those fortunate enough to own a second home on the lake, a boat, and/or personal watercraft or other "summer toys" there come some very real risks with all the fun rewards: you need to protect yourself and your loved ones from physical and financial exposure.
"Having the right insurance coverage can help you enjoy summer fun with peace of mind," write Ciarra Jones for Nerdwallet. "Summer is a time for gathering with friends and family, but with more activity and travel comes [an] increased risk of accident and injury. Some of these incidents could cost you thousands of dollars if you don't have the right insurance coverage."
Talk to Your Insurance Agent About "Summer Toys" Coverage
Before investing in a second home on a lake or buying your dream boat, you will want to sit down with your insurance agent and discuss policy options as vacation homes, especially those situated by water, carry special concerns, and motorized boats with more than 25 horsepower are not typically covered by your homeowners or auto insurance and will likely need their own policy.
And those personal watercraft that can throttle the heart rate – such as WaveRunners, Jet Skis and Sea-Doos -- are also eligible for their own insurance coverage.
"Weekend trips to the lake, afternoons spent poolside and summer holidays fill our free time during the sizzling months. But fun in the sun carries many risks. Before you hit the water, make sure you're safe and that your investments are protected," says the Oklahoma Insurance Department.
Insurance Considerations for Your Lake House
The number of home and lot listings around lakes in Texas skyrocketed during the pandemic and Lone Star State residents looked for their slice of tranquility on the water.
The TrustedChoice insurance platform says that those lakeside dreams come with their own special insurance considerations.
"Buying a lake house isn't exactly the same as buying another type of home. Lake houses come with their own set of risks and exposures, and it's critical to keep these in mind before you sign any official papers. For starters, you'll need special types of insurance to protect your purchase from numerous disasters," says TrustedChoice.
Consider the following insurance options for a lake house:
Homeowners or Vacation Home Insurance:

A home insurance policy can provide essential coverage for your property's structure and contents, as well as liability coverage and loss of use coverage. Since your lake house may be unoccupied for long periods of time, there's a higher risk of damage, and premiums will typically be higher than coverage for your primary home. If you take out a mortgage, your lender will likely require you to insure the property appropriately which may include vacation home ro unoccupied home insurance.





Flood Insurance:

With a house located on the water, flood insurance becomes a must-have. Standard home insurance policies don't protect against natural flood damage due to sources like lakes, hurricanes, etc. Your independent insurance agent can help you understand if your home is in a special flood hazard area and get the coverage you need.





Landlord Insurance:

If you rent the property either short-term or long-term, you'll need additional coverage. You may need landlord insurance, or if you're renting through a service like Airbnb or Vrbo, you may need short-term property insurance and liability insurance to cover those times that guests are occupying your lake house.





Umbrella Insurance:

You may want to consider adding an umbrella insurance policy to increase your liability coverage to a limit of $1 million or more. Living on the water increases your exposure which could impact a third party, like an injury or property damage, and they might decide to sue you. Umbrella insurance can also pick up where your watercraft or boat liability insurance leaves off.
Getting the Right Lake House Coverage: 5 Tips
Edina Realty helps people find their dream lake homes in the Minnesota area and since the state's slogan is "Land of 10,000 Lakes" they understand the coverage concerns for lake house insurance.
Here are 5 tips from Edina Realty for getting the proper lake house insurance coverage:
Seek Multiple Quotes:

Different insurance companies may have different rates for insuring lake homes or second homes, so you'll want to get multiple quotes to determine who offers the strongest coverage at the best rate. Of course, one of the big benefits of working with an independent insurance agent is that they can seek and compare quotes from multiple insurance companies for you.





Include Unattached Buildings:

Often, lake house properties will come with more than just the main house. It is important to get insurance coverage for unattached buildings such as bunkhouses, detached garages, large storage sheds, outhouses, and docks.





Insure Semi-Permanent Water Structures:

Your lake home may come with semi-permanent water structures that need coverage such as swim rafts, water trampolines, boat lifts, and seasonal docks.





Reduce Personal Content Coverage

: Lake homes usually have less personal property in them compared to primary homes. If a loss does occur, you'll want to have brand-new items replaced within the lake home to get it back to normal as quickly as possible. Discuss with your local insurance professional if they have options to lower this coverage.





Insurance Watercraft and Vehicles:

Make sure your summer toys are all covered at the lake house such as boats, jet skis, ATVs, golf carts, and other vehicles for use at your second home.
Do You Need Boat Insurance?
The Texas Department of Insurance (TDI) says that if your summer plans include boating, you need to understand what is covered and what is not covered.
TDI says to consider the following:
Homeowners Coverage:

Most homeowners insurance policies will cover damage to your boat, but only for a limited dollar amount. These policies don't provide liability coverage. You will need a separate boat policy to cover a more expensive boat, provide medical payments, or pay for damage or injuries to others.





Types of Boat Policies

: There are three kinds of boat policies:
o Replacement cost: Pays to repair or replace your boat.
o Actual cash value: Pays to repair or replace your boat minus depreciation. For example, a new boat in 2010 might cost $40,000, but today it's worth $25,000. An actual cash value policy would pay up to $25,000 to repair or replace this boat.
o Agreed amount value: Pays to repair or replace your boat up to a set value in your policy.
Understand Your Policy

: Look for these special considerations on boat insurance:
o A layup provision suspends coverage during the months when the boat is not in use.
o There may be limits on your policy for ocean use. Talk to your agent to make sure your coverage fits your needs.
o Most policies have restrictions on underage drivers.
"Many insurance companies that sell homeowners insurance can also sell you a policy for your boat. Be sure to ask your agent about options. There are also insurance companies that specialize in boat policies," concludes TDI.
Factors for Personal Watercraft Insurance
Personal watercraft (PWC) come with their own insurance factors.
"It's important to know whether you have adequate insurance coverage for your PWC, especially since your homeowner or auto insurance typically won't cover them or, if they do, the coverage may be limited," says Nationwide.
Nationwide says that consumers should consider these five factors when purchasing PWC insurance policies:
Get a Specific PWC Insurance Policy:

Most PWC policies will cover these three areas:
o Bodily injury
o Property damage
o Medical payments
Typically, policies include deductibles for property damage, theft, and medical payments. Most policies include liability limits, which vary by state. Liability coverage typically provides financial protection in case you are liable because of a covered accident.
Each PWC Needs to be Insured:

If you own several PWCs, each one will need to be insured, but may not require its own policy, as some boat insurance policies can be built to cover personal watercraft as well. Check with your agent to review your options.





Read Your Policy Carefully:

Most PWC policies provide coverage whether you are operating the PWC yourself or you loan it to someone else. Although the facts and circumstances of each case must be evaluated based upon the applicable laws and policy language, in most cases, regardless of who is operating it, you would be covered for the following:
o Damage to another craft or dock.
o Bodily injury or death to another person due to your negligence.
o The negligence of another driver while using your PWC.
o Towed water skiers or wakeboarders who become injured while using your craft.
o Physical damage to the hull, machinery, and equipment.
o Injury caused by an uninsured watercraft operator.
Because some coverages are optional and must be selected, read your policy carefully to be certain you are getting the coverage you need.
Not Every Policy Covers Everything:

Depending on your insurer, you might not be covered for everything. A PWC that has been modified to enhance speed and performance is typically not covered.





Consider Coverage Extras:

Other coverage areas you should obtain more information about include:
o If your policy will cover the replacement cost of personal items lost or damaged while on board.
o If your policy will replace the actual cash value of your PWC if it is damaged during use.
o Roadside assistance in case your tow vehicle or trailer is damaged or disabled.
o If your policy covers the costs of raising and removing your PWC if it sinks.
The recommendation(s), advice and contents of this material are provided for informational purposes only and do not purport to address every possible legal obligation, hazard, code violation, loss potential or exception to good practice. Dean & Draper Insurance Agency specifically disclaims any warranty or representation that acceptance of any recommendations or advice contained herein will make any premises, property or operation safe or in compliance with any law or regulation. Under no circumstances should this material or your acceptance of any recommendations or advice contained herein be construed as establishing the existence or availability of any insurance coverage with Dean & Draper Insurance Agency. By providing this information to you, Dean & Draper Insurance Agency does not assume (and specifically disclaims) any duty, undertaking or responsibility to you. The decision to accept or implement any recommendation(s) or advice contained in this material must be made by you.