Storm And Weather Topics
Why You Need Flood Insurance if You Live in the Houston Area
Posted by: Communications Team | June 22, 2022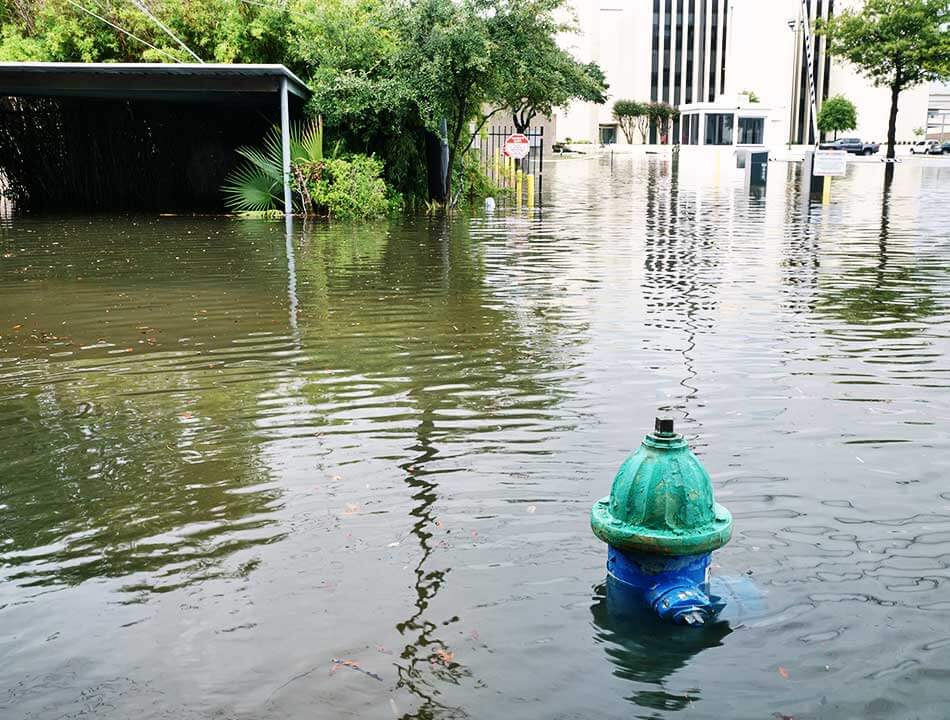 The Houston area and flooding have been intertwined since the founding of the city at the confluence of Buffalo and White Oak bayous in 1836 with the new settlement flooding shortly after the Allen brothers began selling lots in the flat, marshy area.
Close enough to the Gulf of Mexico to experience the wrath of hurricanes, prone to strong storms with torrential rain, and surrounded by adjoining prairie land that drains into the city, a major flood occurs in in Harris County about every two years.
"Early settlers documented that after heavy rains, their wagon trips west through the prairie involved days of walking through knee-deep water," says the Harris County Flood Control District. "Harris County suffered through 16 major floods from 1836 to 1936, some of which crested at more than 40 feet, turning downtown Houston streets into raging rivers."
Rising Waters: From "Great Galveston Storm" to Hurricane Harvey
The Houston story has been a story of rapidly rising waters from the 1900 "Great Galveston Storm" to 2017's Hurricane Harvey.
The Great Galveston Storm is considered the worst natural disaster in U.S. history with a category 4 hurricane slamming Galveston Island and killing an estimated 6,000 to 12,000 Texans.
Houston, located just 55 miles from Galveston Island and just 50 feet above sea level, will often experience widespread flooding when hurricanes and tropical storms batter the coast and make landfall in Texas.
After the 1900 Great Galveston Storm, every decade in Houston had flooding events, including:
Another Galveston hurricane in 1915 causes Buffalo Bayou to flood
In 1929, an April storm sends all the area bayous out of their banks, and a month later, a storm saw the San Jacinto River crest 30 feet about normal
Harris County Flood Control District is created after a 1935 storm sent the Buffalo Bayou 52 feet above normal
Three hurricanes cause damage in the 1940s
Thunderstorms, at almost any time of the year, can cause flooding too in Houston like storms in February 1950, May 1955, and October 1959.
Hurricane Carla in 1961 pounded the Gulf Coast, killing 34, and causing an estimated $300 million of damage with heavy flooding in southern Harris County.
Tropical Storm Claudette brought record rainfall to the area in 1979 with a U.S. record of 43 inches in 24 hours in the Alvin area. Damages exceed $700 million.
Hurricane Alicia, with strong winds hitting Harris County, caused an estimated $1 billion damage to the region in 1983.
A March 1992 storm flooded 1,500 structures and put much of 1-10 under water.
Tropical Storm Allison in 2001 floods 70,000 structures and leaves $5 billion in damage
Hurricane Ike in 2008, the third costliest in U.S, history, hit Galveston Island and a storm surge in Harris County left 11 dead, 2,500 structures flooded and $28 billion damage.
Hurricane Harvey was such a monumental storm in 2017, that many forget that in the two years before, the region suffered two Memorial Day flooding events and a historic Tax Day Flood in 2016.
Hurricane Harvey: Catastrophic Flooding in Houston
Despite Allison and Ike, Houston was likely not prepared for a new level of flooding brought on by Hurricane Harvey in 2017 as rainfall totals of 25 to 40 inches fell across much of Harris County over six days with a maximum rainfall total of 47.4 inches recorded over four days along Clear Creek at I-45.
Before Harvey, Allison (2001) was the name Houstonians remember as that storm left in its wake: 22 dead, 95,000 damaged vehicles, 73,000 damaged residences, 30,000 stranded residents in shelters, and $5 billion in property damage.
Then 16 years later, a slow-moving Harvey dumped a total of 1 trillion gallons of water across Harris County in four days.
"This amount of water would cover Harris County's 1,800 square miles with an average of 33 inches of water. More than two dozen rainfall gauges registered seven-day readings topping 40 inches … This unprecedented storm event impacted the residents of each of Harris County's 22 watersheds, and it is estimated that more than 120,000 structures were flooded in Harris County alone," says the Harris County Flood Control District.
Final estimates put Harvey's damage at $125 billion with 150,170 homes and 300,000 vehicles damaged.
National Flood Insurance Program Created in 1968
For much of Houston's struggles with flooding, homeowners were left without insurance protection as standard homeowners' policies do not cover flooding events.
Help came when the National Flood Insurance Program (NFIP) was created in 1968 with the goal of reducing flood damage and protecting property owners.
"Fortunately, there has been flood insurance to ease the financial impact of flooding," says the Harris County Flood Control District. "Despite tremendous flood damage reduction projects that have indeed reduced the risk of flooding, more flood insurance funds have been paid here than in any other National Flood Insurance Program-participating community.
FEMA points out that just one inch of water can cause $25,000 of damage to a home.
The NFIP allows homeowners to secure coverage:
For residential properties, you can secure coverage up to $250,000 for the building and $100,000 for the building contents
For commercial properties, you can secure coverage up to $500,000 for the building and $500,000 for the building contents
While the federal government underwrites NFIP policies, this coverage is generally sold through private insurance agents. In some areas, primary flood insurance may be available through public insurers.
How Do I Know If I Must Have Flood Insurance?
If you live in a high-flood risk area and have a government-backed mortgage, you may be required to purchase flood insurance.
You can put your home address into the FEMA Flood Map Service Center to see your location's flood risk:
Moderate- to low-risk flood areas are designated with the letters B, C, and X on FEMA flood maps. In these areas, the risk of being flooded is reduced, but not completely removed. One in three insurance claims come from moderate- to low-risk flood areas.
High-risk flood areas begin with the letters A or V on FEMA flood maps. These areas face the highest risk of flooding. If you own a property in a high-risk zone and have a federally backed mortgage, you are required to purchase flood insurance as a condition of that loan.
The Insurance Information Institute (III) says that even if you do not live in a high-flood risk area, you should consider purchasing flood insurance.
As Harvey taught the Houston area, even areas considered low to moderate risk for flooding can be hit when an unprecedented rain event slams the area.
Dean and Draper in Houston has experience in finding the right flood insurance policy to cover your home or business. Contact us today to go over your options.
Dean & Draper is a Trusted Choice insurance agency representing numerous insurance companies. For over 40 years we have offered a trusted freedom of choice to our clients. Contact Dean & Draper today.
The recommendation(s), advice and contents of this material are provided for informational purposes only and do not purport to address every possible legal obligation, hazard, code violation, loss potential or exception to good practice. Dean & Draper Insurance Agency specifically disclaims any warranty or representation that acceptance of any recommendations or advice contained herein will make any premises, property or operation safe or in compliance with any law or regulation. Under no circumstances should this material or your acceptance of any recommendations or advice contained herein be construed as establishing the existence or availability of any insurance coverage with Dean & Draper Insurance Agency. By providing this information to you, Dean & Draper Insurance Agency does not assume (and specifically disclaims) any duty, undertaking or responsibility to you. The decision to accept or implement any recommendation(s) or advice contained in this material must be made by you.
©2022 Dean & Draper Insurance Agency All Rights Reserved.