Manufacturing
Manufacturing Industry Trends to Watch in 2023
Posted by: Dean & Draper Insurance Agency | March 10, 2023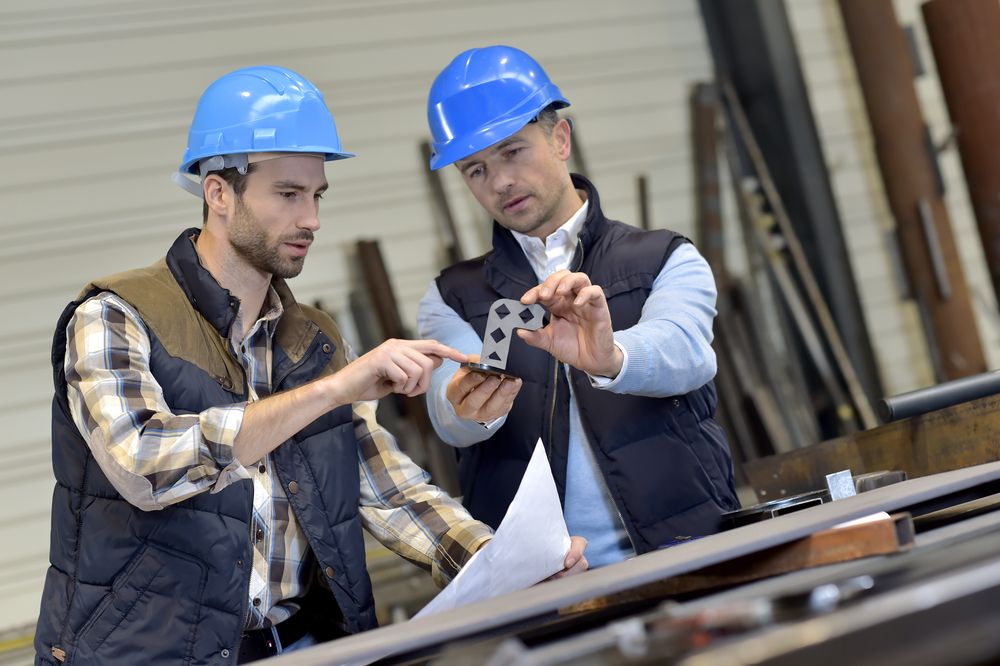 The manufacturing industry has its agenda full in 2023 as employers monitor supply chain issues, labor shortages, cybersecurity threats and technology shifts all against a macroeconomic backdrop that features post-pandemic growth tailwinds and inflationary and possible recessionary headwinds.
While it may not always be smooth sailing in the coming months, manufacturing experts are confident that the American manufacturing sector is on the right course.
"While inflation, geopolitical turmoil, technological change and economic pressures weigh on the industry, manufacturers continue to pursue new opportunities to bolster resilience, agility and growth," said the National Association of Manufacturers (NAM) .
U.S. Manufacturing Sector Projected at 2.5 Percent Growth
The U.S. manufacturing sector's gross domestic product (GDP) is expected to grow by 2.5 percent in 2023 as projected by Deloitte's interpretation of the Oxford Economic Global Economic Model.
"US manufacturing has demonstrated continued strength in 2022, building on the momentum it gained emerging from the pandemic, and surpassing expectations from the prior two years," said Deloitte. "Policy initiatives such as the Creating Helpful Incentives to Produce Semiconductors for America Act (CHIP Act) and Inflation Reduction Act (IRA) have the potential to help sustain recovery in the manufacturing industry."
Zywave cautions that some manufacturing sector developments could pose challenges in the coming months and years.
"Savvy manufacturers are looking at the decade ahead to create a roadmap … this trend is driven by many factors, including post pandemic resilience improvements, the needs for cost-savings in a tough economy, supply constraints, the labor shortage and more," says the NAM.
Keep an Eye on These 6 Manufacturing Trends in 2023
Here are six manufacturing trends to keep an eye on in 2023 and beyond:
Labor Shortages: Talent Disruptions and Opportunities: While tech layoffs grab the headlines, the

U.S. Bureau of Labor Statistics showed

a whopping 791,000 job openings in the manufacturing sector as of January 2023.

NAM calls this

an "unprecedented labor crisis that has no end in sight" and says causes include:
o Retirements.
o Outdated perception of the industry.
o Unclear roles because of digitization.
o Outdate recruitment practices.
o COVID-19 pandemic.
Considering these labor shortages, businesses within the manufacturing sector have implemented strategies such as:
o Promoting a diverse workforce and creating an inclusive culture.
o Leveraging recruitment, retention, upskilling and cross-training initiatives.
o Offering greater flexibility, pay, and benefits.
o Utilizing incentives available to manufacturers for job creation and employee training.
o Improving perceptions of modern manufacturing, which includes Manufacturing 4.0 technologies, such as robotics and automation.
Supply Chain Struggles: Delays, Shortages, Costs: The COVID-19 pandemic upended the world's supply chain, and many sectors, including manufacturing, have yet to fully recover with labor and raw material shortages and strong demand combined with logistics challenges and transportation woes.



NAM says that

"as manufacturers face long lead times, increased costs and a scarcity of raw materials, they are taking steps to boost supply chain resilience through reshoring, cybersecurity, increased supplier pools and more."

Here are some of the tactics manufacturers are employing to combat supply chain struggles:
o Strengthening relationships with current suppliers.
o Diversifying suppliers vs. relying on a small selection of primary suppliers.
o Forming local partnerships or nearshoring by adding domestic suppliers instead of international suppliers.
o Leveraging technology to streamline supply chain workflows.
o Utilizing R&D to mitigate supply chain risk in three ways: risk management, supplier qualification, and through design for substitution.
o Protecting against cyber breaches at any point in the supply chain that can cause significant financial harm to the business.
Economic Issues: Good and Bad: A trend can be both good and bad as economic issues in manufacturing include continued "post-pandemic" growth and expansions but also the realities of high inflation, high interest rates and the resulting rising costs of raw materials and shipping.

Zywave says that "most manufacturing businesses have encountered price hikes throughout their supply chains, thus exacerbating overall production expenses and forcing them to raise the costs of their finished products to ensure profitability."

To prepare for a possible recession and tougher economic times, manufacturers are:
o Being transparent about the reasons behind price hikes.
o Establishing concrete financial plans, including 401(k) and financial wellness resources for employees.
o Using incentives and tax credits to offset financial hardships brought on by inflation.
o Adding energy-efficient upgrades to reduce one of manufacturing's largest operating costs.
o Scaling back certain operations and using just-in-time manufacturing to increase efficiency and reduce inventory costs.
o Promoting steady cash flow and proper debt management, including saving on expenses such as energy, shipping, and health care coverage.
o Fostering stronger connections with stakeholders.
o Expanding their supplier pool for more options for materials, substitutions, competitive pricing, and speed of delivery.
o Leveraging effective marketing strategies.
o Maintaining ample insurance to secure financial protection against possible losses.
NAM, however, says that not all the economic news is doom and gloom as "manufacturers have continued to invest in their futures in the months since the start of the pandemic, particularly in productivity-enhancing technologies and intellectual property products, with an eye on increasing capacity to meet demand."

Manufacturers, while balancing capital expenditures with potential ROI, are looking towards:
o Using more than $80 billion in government incentives available to businesses in the U.S. annually for things such as site selection, facility expansion, equipment upgrades, and employee training.
o Adopting Manufacturing 4.0 technologies to increase capabilities and improved efficiencies.
o Looking beyond 2023 but to the next decade when considering improvements, upgrades, and workforce needs.
o Some manufacturers are looking at mergers and acquisitions opportunities.
Emerging Technology: AI, Automation and Analytics: The manufacturing sector is embracing smart factory initiatives as well as disruptive technology such as augmented reality (AR), artificial intelligence (AI), the Internet of Things (IoT), machine learning, digital twins, data analytics, and blockchain.



NAM says that

"Automation and robotics are viable solutions to keep production running, and this will require hiring more skilled employees and continuing to train existing workers."

These emerging technologies, including 5G connectivity and the move towards the cloud and edge computing systems, can help manufacturers:
o Increase efficiency, reduce costs, improve quality, and provide visibility into the supply chain.
o Alleviate supply chain challenges with digital twins and digital threads.
o Boost resilience against future disruption.
o Prepare their workforce to thrive alongside automation with a people-centric approach to digital transformation.
o Maximize intelligence from the expanding dataset provided by sophisticated analytics.
o Shift toward advanced services business models and "voice of data" product development by using sensors and data lakes.
Cybersecurity: Insurance, Risk Mitigation and Supply Chain:

NAM says that

"2023 will see manufacturers more organized and focused on cybersecurity. While the frequency of ransomware attacks has decreased slightly, manufacturers must stay vigilant against this and other threats. Cyber insurance has gone from a "nice to have" to a "must have"—both to protect your own business and to prove you are a reliable partner to customers."

Manufacturers are focused in 2023 in cybersecurity on:
o Taking steps to reduce risk and eliminate some attacks altogether through best practices, such as proactive monitoring, employee training, and network segmentation.
o Watching for new cybersecurity reporting requirements, such as legislation that would require reporting of cyberattacks within 72 hours, that could take effect soon.
o Unique threats cyberattack pose to manufacturing including safety hazards, production downtime, loss of reputation, damage to customer relationships, and financial damage.
o Understanding that companies large and small are targets for cyberattacks because of their use of IT and IoT systems.
o Employee training on ransomware, phishing attempts, wire fraud, and other tactics.
o Protecting their business with enough cyber insurance to prevent financial ruin from attacks during an economic downturn.
Sustainability: Net Zero, Renewable Energy and Regulations: ESG (environmental, social and governance) is a hot button topic currently, but sustainability issues have been front and center in manufacturing for some time and some projects are not only good for the planet but make good business sense as they generate savings or create new revenue streams.



NAM says that

"More manufacturing companies are setting goals to reduce carbon emissions not just to be good citizens but also to prolong the life of their business due to finite resources."

Manufacturers on focusing on sustainability in 2023 in many ways including:
o Extending product life cycles to provide greener and more profitable end-of-life solutions, particularly in the tech and electronics sector.
o Renewable energy solutions, such as solar power, battery storage and LED lighting, to contribute to sustainability while saving money. Programs from utility companies and other entities enable efficiency upgrades with little or no upfront capital.
o Advanced manufacturing technologies to increase efficiencies and move towards net-zero goals.
o Letting their employees know that their company is "doing the right thing for the environment."