Business Insurance
|
Liability
Holiday Parties and Business Liability: Are You Covered?
Posted by: Communications Team | December 5, 2022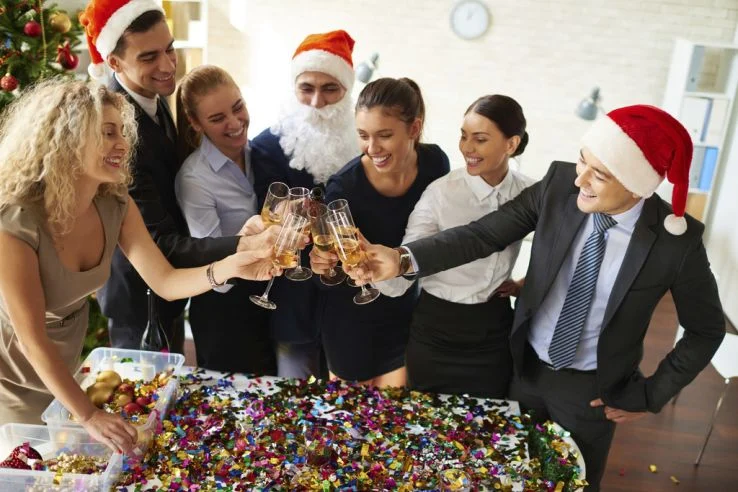 If you believe Hollywood, company holiday parties have the potential to go off the rails – think the debauchery of "Office Christmas Party", or worse, having "a Hans Gruber" crash your get-together gala ala "Die Hard".
While the reality is that the tone of your holiday hoedown is likely to be much closer to "Ho, Ho ... Ho-Hum" than, say, the behavior of "Bad Santa", you still need to consider the possibility that a few hours of merriment can lead to months and months of legal and HR headaches.
"When the weather outside is frightful, company holiday party season can be so delightful. The soirees are a great opportunity for colleagues to celebrate everyone's hard work and get to know one another better. But the mixture of excitement, alcohol, and the resulting lowered inhibitions can result in a legal headache for employers, who can be held vicariously liable for the actions of its staff," warns JD Supra.
While playing "The Grinch" is never on a business owner's wish list, they also need to consider their holiday party plans in terms of business liability, making sure they are properly covered.
"It's the holiday season—time for family gatherings and office parties. But these events can also prove to be a liability for those who serve alcohol. That is why party hosts should protect themselves by making sure they have the proper insurance coverage and taking reasonable precautions to prevent any risks," recommends the Insurance Information Institute.
Ask These 4 Questions Before Hosting Your Holiday Party
While many companies put their holiday parties on the shelf the last two Decembers because of the pandemic, there is a return this season to more get-togethers as employers look for ways to celebrate with their staff and boost workplace morale.
"The holiday season is here, and many employers will host their annual year-end celebrations in the weeks to come. These events are generally meant to reward employees and foster camaraderie—but employers could be on the hook for holiday-party mishaps," writes Lisa Nagele-Piazza for the Society for Human Resource Management.
Nagele-Piazza says there are four questions employers should ask when considering their holiday party and business liability:
Will Alcohol be Served at the Party? You may hear some "boos" if you decide on a policy of "no booze" but alcohol is at the top of liability concerns for holiday events. If alcohol will be served, then management needs to make sure that employees and guests do not overindulge, such as by limiting the types and number of drinks offered. Bringing in a catering service or professional bartenders with the appropriate insurance and training can limit liability and stave off alcohol-related problems.

When and Where will the Party be Held? An afternoon holiday party on a weekday will have a much different vibe than a weekend event held at night. Holiday parties held on-site may help employees reign in behavior since they will be in their workplace, but events held off-site can help limit the business's liability as the hosting location will carry its own insurance.

Is the Holiday Part Inclusive? Experts tell SHRM that all employees should be invited to your event regardless of racial, religious, and ethnic backgrounds with your party not focused on one holiday. The holiday party should always be voluntary as making it mandatory can lead to employment wage and hour issues.

Is the Risk of the Party Worth the Reward? There may be other holiday season events instead of a traditional party that might be just as rewarding for your employees without the risk. Employee feedback should be solicited on the value they get from the holiday party. The funds and resources spent on your holiday party could be employed elsewhere with just as big, or even bigger, return on investment.
Asking these questions and thinking through all aspects of your holiday party is crucial.
"In order to have a successful gathering, it is important that such employers carefully plan the gathering in a manner that ensures it is fun, inclusive, safe, and avoids common legal risks," says the National Law Review.
The Different Types of Liability and Your Holiday Party
There are several different types of liability concerns for your company holiday party including:
General Liability: Most businesses have a general liability policy that helps protect the business and its employees from lawsuits related to injuries and property damage. Check with your insurance broker or agent to determine how much coverage your holiday party has, especially if alcohol is served.
Liquor Liability: Many states have liquor liability laws that put the liability and responsibility on those that serve alcohol including "social hosts" such as an office party. Check with your insurance broker or agent to make sure that your general liability policy covers your event or if you need additional liquor liability coverage.
Employment Practices Liability: This type of insurance can protect your business from lawsuits regarding workplace discrimination, sexual harassment, emotional distress, and other situations. Many of these situations can be triggered by the atmosphere of a holiday party.
Hosting Liability: Some smaller companies will have their holiday party hosted at the home of the business owner or other management. In this case, the host will need to have coverage from their homeowner's insurance against trips, falls, and other injuries. Extra protection from umbrella policies and personal liability coverage may be warranted.
Workers Comp Liability: If your employees get injured at the holiday party trying to dance like Buddy the Elf, then your workers' comp insurance will help cover the injuries and costs, not your general liability policy.
Topping Holiday Party Liability Concerns: Alcohol Consumption
There is a reason that the first question asked about before holding a holiday party was whether to serve or not to serve alcohol.
"Unsurprisingly, most complaints arising from company parties involve alcohol. After a few drinks, inhibitions are lowered, which may result in employees engaging in conduct or comments that are unacceptable for the workplace," says CSG Law. "Remember, even if your event occurs offsite, that does not insulate the company from a claim of workplace misconduct. Limiting or even entirely eliminating the alcohol served at a company party may reduce the risk of employees behaving inappropriately."
Your lawyers (and insurance broker or agent) will likely tell you that the best policy is not to serve alcohol at your event, but if do choose to do so, here are some tips to limit your liability:
Hold the party during the afternoon or on a weeknight vs. the weekend
Hold the party off-site for liability purposes
Stress on the party invitation about drinking responsibly and in moderation
Do not have a self-serve or open bar
Hire a professional catering service or bartenders, who have their own liability insurance, and are trained in identifying intoxicated guests
Management should lead by example and not drink too much
Management should put leaders in charge of making sure employees and guests are not drinking too much
Limit the type of alcohol served – keeping it to, for example, beer and wine instead of spirits
Not allowing behavior that encourages binge drinking such as shots of liquor
Limiting the number of drinks per guest with the use of drink tickets
Ensure that servers are aware of any guests who may be underage and not allowed to legally consume alcohol
Offer plenty of non-alcoholic beverage alternatives
Have enough food on hand so guests do not drink on an empty stoma
Stop serving alcohol prior to the end of the party, not at the end
Offer ride-sharing services at no charge for those that have been drinking
"Beware of liability associated with alcohol consumption at employer-sponsored events. Although employer liability for injuries caused by attendees at employer-sponsored events is different from state to state, employers could be liable under theories of common law negligence, vicarious liability, social host or "dram shop" liability (a type of liability that holds the provider of alcoholic beverages to someone who is obviously intoxicated liable for any injuries that those individuals later cause), and more," says the BHMK law firm.