Health & Wellness
2022 Fire Prevention Week Theme is "Fire Won't Wait, Plan Your Escape"
Posted by: Communications Team | October 10, 2022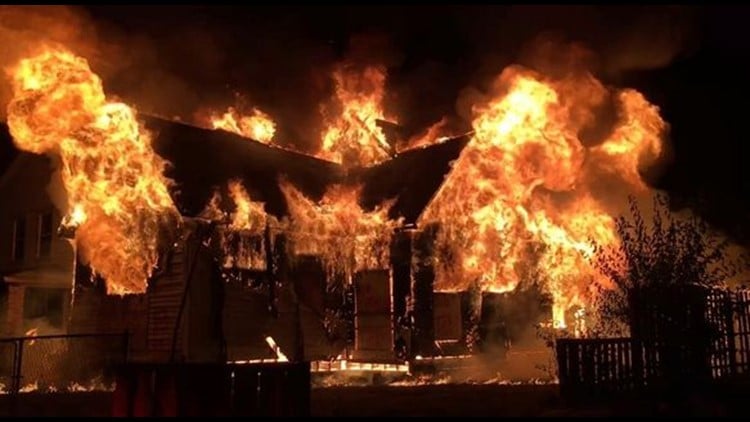 Fire Prevention Week 2022 kicks off October 9 with a theme of "Fire Won't Wait, Plan Your Escape."
This is the 100th anniversary that the National Fire Protection Association (NFPA) has sponsored this critical safety week – the longest-running U.S. public health observance.
"This year's Fire Prevention Week campaign capitalizes on its milestone anniversary, celebrating all we've accomplished in reducing the public's risk to fire over the past hundred years," said Lorraine Carli, vice president of the NFPA Outreach and Advocacy division. "At the same time, the theme, 'Fire Won't Wait. Plan Your Escape,' addresses challenges that remain."
According to NFPA data, home — the place people feel safest from fire — is where they are at greatest risk, with three-quarters (74 percent) of all U.S. fire deaths occurring in homes. When a home fire does occur, it's more likely to be serious; people are more likely to die in a home fire today than they were in 1980.
"Today's homes burn faster and hotter than they used to, minimizing the amount of time they have to escape safely," said Carli. "In a typical home fire, you may have as little as two minutes to get out from the time the smoke alarms sounds."
White House Proclamation on Fire Prevention Week 2022
The White House released its proclamation on Fire Prevention Week 2022 on Oct. 7, 2022.
"In 1920, President Woodrow Wilson proclaimed October 9th the first Fire Prevention Day, calling on the public to learn more about the risks of deadly fires and commemorating the thousands who had lost their lives to these tragedies," said The White House release. "More than a century later, our Nation observes Fire Prevention Week by renewing our commitment to fire safety and preparedness and taking steps to prevent fires in our homes, schools, workplaces, and the great outdoors. We also honor the bravery and heroism of our firefighters, who gear up time and again and rush into harm's way to protect our communities."
Then NFPA began sponsoring Fire Prevention Week in 1922 and then in 1925 President Calvin Coolidge followed up on Wilson's Fire Prevention Day by proclaiming the first nationwide Fire Prevention Week.
Past Year Has Been Deadly in the U.S. For Fires
The White House points out that the nation has "suffered some of its deadliest fires in recent history. Americans have lost their homes and their businesses. Thousands have tragically lost their lives."
The White House says that this week's theme of "Fire Won't Wait, Plan Your Escape" is important because it emphasizes "how we must all prepare fire escape plans, test smoke and carbon monoxide alarms every month and replace them every 10 years, implement appropriate building codes, and when possible, install residential fire sprinklers. For those who live in areas susceptible to wildfire, regularly clearing brush and other vegetation around your homes is another important way to stay safe."
The Fire Prevention Week 2022 theme promotes potentially life-saving messages that can mean the difference between life and death in a fire.
The NFPA says that developing a home escape plan with all members of the household and practicing it regularly ensures that everyone knows what to do when the smoke alarm sounds and uses that time wisely.
Key Fire Safety Tips for Fire Prevention Week
The NFPA says that key messages for 2022 Fire Prevention Week include:
Make sure your home escape plan meets the needs of all your family members, including those with sensory or physical disabilities.


Smoke alarms should be installed inside every sleeping room, outside each separate sleeping area, and on every level of your home. Smoke alarms should be interconnected so when one sounds, they all sound.


Know at least two ways out of every room, if possible. Make sure all doors and windows open easily.


Have an outside meeting place a safe distance from your home where everyone should meet.


Practice your home fire drill at least twice a year with everyone in the household, including guests. Practice at least once during the day and at night.
"As the biggest annual campaign at NFPA, Fire Prevention Week works to educate people about the leading risks to home fires and ways they can better protect themselves and their loved ones. Local fire departments play a key role in bringing Fire Prevention Week to life in their communities each year and spreading basic but critical fire safety messages," says the NFPA.
President Joe Biden said in his Fire Prevention Week proclamation that "with every home, school, and business destroyed in a fire, precious memories are lost, livelihoods are jeopardized, and dreams are crushed."
He asks Americans this National Fire Prevention Week, to reflect on the importance of remaining vigilant and learning more about fire safety. And to acknowledge:
The remarkable service of our Nation's firefighters and honor the memory of those who have lost their lives protecting others.


Let us all work to make these heroes' jobs more manageable, keep our neighbors safer, and reduce the risk of fires across our country.
Smoke Alarms Can Alert You to Danger Before You Sense It
The NFPA says that smoke alarms can sense smoke well before you can, alerting you to danger.
"Smoke alarms need to be in every bedroom, outside of the sleeping areas (like a hallway), and on each level (including the basement) of your home. Do not put smoke alarms in your kitchen or bathrooms," says the NFPA.
Smoke alarm tips include:
Choose an alarm that is listed with a testing laboratory, meaning it has met certain standards for protection.


For best protection, use combination smoke and carbon monoxide alarms that are interconnected throughout the home.


These alarms can be installed by a qualified electrician, so that when one sounds, they all sound.
Office and Store Fires Caused $744 in Direct Property Damage
The U.S. Fire Administration – the federal agency for fire data collection, public fire education, fire research and fire service training – says there were 18,700 office and store fires in the United States in 2019 that caused $744 million in direct property damage.
These store or office fires can be devastating to a community.
"In addition to potential deaths and property loss, people may lose their jobs and the community may lose a vital service provided by the business," says the U.S. Fire Administration.
Leading causes of office and store fires in 2019, according to the U.S. Fire Administration:
Cooking: 32.3 percent


Electrical malfunction: 10.9 percent


Heating: 8.0 percent


Other unintentional, careless: 7.9 percent


Appliances: 7.7 percent
"There are important fire safety practices that employees and employers should follow to help prevent workplace fires, keep workers safe and keep offices and stores open," says the U.S. Fire Administration.
Workplace Fire Safety Tips for Employer and Employees
Many causes of office and store fires are the same as those for home fires with prevention and escape planning recommendations very similar.
Fire safety tips for employers include:
Make sure smoke alarms and fire sprinklers are properly installed and working.


Post clear fire escape plans on every level of a building.


Teach employees about exit locations, escape routes, and fire protection equipment.


Check the condition of fire ladders and escapes.


Conduct regular emergency drills.
Fire safety tips for employees include:
Check for damaged or overloaded electrical outlets, cords, and cables.


Keep anything that can burn away from electrical equipment.


Never leave portable heating devices unattended.


Keep workspace and equipment clean, dry, and well ventilated.


Plan and practice multiple escape routes in case one is blocked.


Ensure windows can be opened and screens can be removed.


Remove any obstacles from exits.
Dean & Draper is a Trusted Choice insurance agency representing numerous insurance companies. For over 40 years we have offered a trusted freedom of choice to our clients. Contact Dean & Draper today.
The recommendation(s), advice and contents of this material are provided for informational purposes only and do not purport to address every possible legal obligation, hazard, code violation, loss potential or exception to good practice. Dean & Draper Insurance Agency specifically disclaims any warranty or representation that acceptance of any recommendations or advice contained herein will make any premises, property or operation safe or in compliance with any law or regulation. Under no circumstances should this material or your acceptance of any recommendations or advice contained herein be construed as establishing the existence or availability of any insurance coverage with Dean & Draper Insurance Agency. By providing this information to you, Dean & Draper Insurance Agency does not assume (and specifically disclaims) any duty, undertaking or responsibility to you. The decision to accept or implement any recommendation(s) or advice contained in this material must be made by you.
©2022 Dean & Draper Insurance Agency All Rights Reserved.