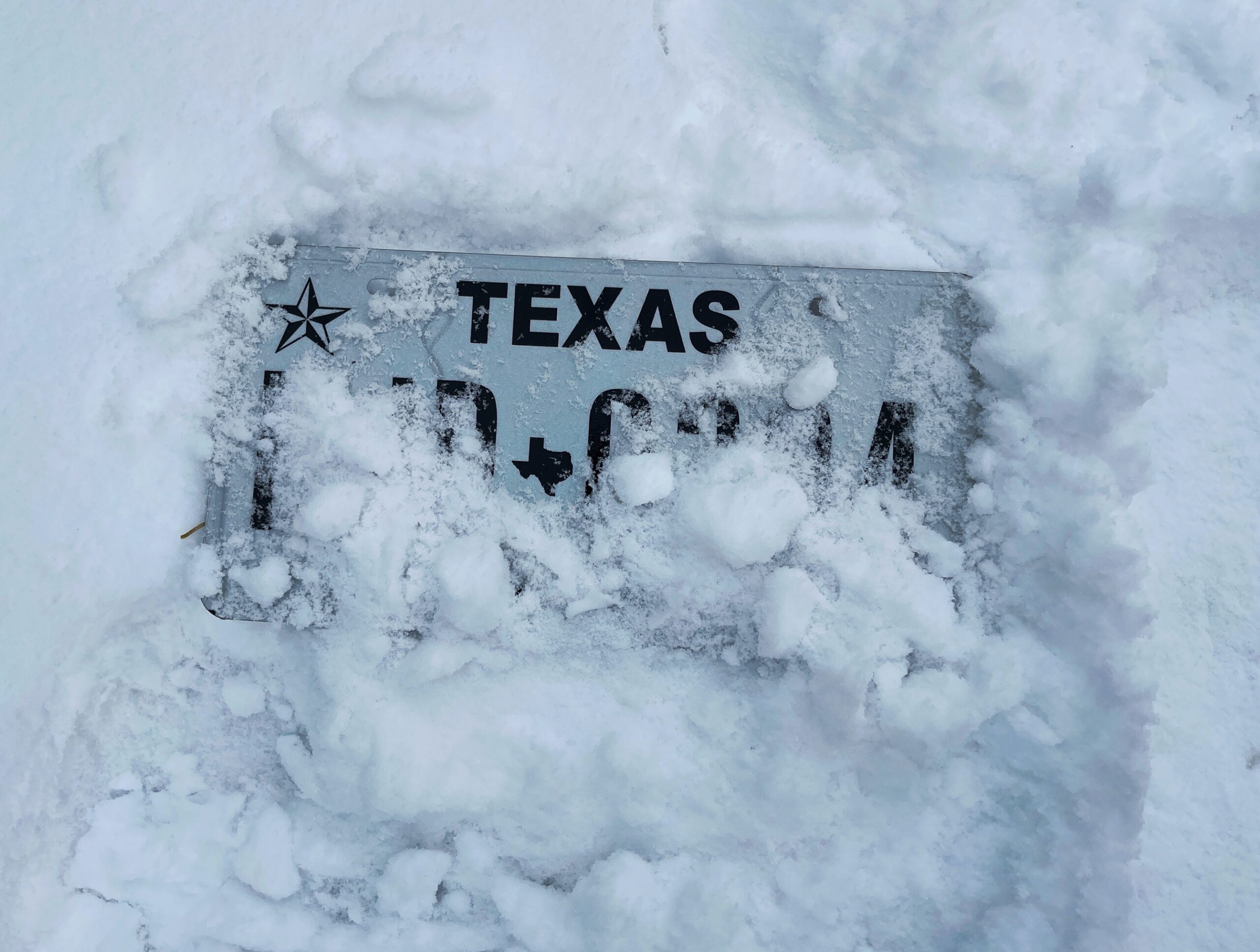 In many parts of Texas, the weather varies most of the year between darn hot and dang hot, so winter is often a welcome respite from sweltering temperatures.
There can be, however, a dark side to winter, as many Texans found out during the deep freeze in February 2021, and that is the damage that freezing weather can cause to homes and autos.
"The extreme weather that caused days of blackouts in the Lone Star State has triggered one of the costliest and most unusual insurance events in Texas history when indoor plumbing froze and exploded in homes bereft of heat," reported The Wall Street Journal.
Texas Homeowners were Unprepared for Deep Freeze
Unfortunately, many Texas homeowners were unprepared for the deep freeze, and many suffered damages, some of which were not covered by their insurance policies.
"Some homeowners have been left to deal with losses that their insurance doesn't cover," reported The Wall Street Journal. "Many have discovered that their policies limited payouts on plumbing-related water damage, often at $5,000 to $10,000 – well below what they need."
Karen Clark & Co., which runs catastrophe-modeling software widely used in the U.S. insurance industry, estimated that property insurers faced an estimated $18 billion in damage to homes and businesses from that deep freeze in Texas and 19 other states.
KXAN Austin reported that the Texas Department of Insurance had cataloged 500,196 insurance claims by insurers from the storm with more than 85 percent of these claims from residential property owners and homeowners. Commercial properties made up just under 10 percent of those claims.
"This report estimated insurers were expected to ultimately pay about $10.3 billion in losses from this event," reported KXAN.
The average incurred loss for residential property, according to the Claims Journal was about $15,800, and for commercial property policies about $126,900.
Texas Power Grid Put to the Test by Deep Freeze
For those that didn't live through that monumental 2021 storm, here is what the Federal Reserve Bank of Dallas says happened:
Temperatures dipped into the single digits and lower across much of Texas overnight on Feb. 14.


Electricity demand surged as critical equipment failed at several power plants.


Wind-farm output—already low due to diminished wind speeds—declined further as ice accumulated on turbine blades.


Electricity generation declined yet again when gas-fired power plants were unable to procure needed gas supplies.


Nearly 4 million Texas customers—representing more than 11 million people—lost power during the Arctic blast.
"While industry sources report gas production difficulties occurred because of wells and other such installations freezing, the bigger disruption began when power was cut to the wells, processing plants and compressor stations that move the gas into and along major pipelines serving power plants," says the Federal Reserve Bank of Dallas.
During the storm, 38 of Texas' 176 gas processing plants shut down due to weather conditions and electricity service disruption. Texas natural gas production dropped 45 percent Feb 13–17.
"This created a death spiral for electricity generation," said the Federal Reserve Bank of Dallas.
Bottom Line: Be Prepared for Winter's Freezing Temps
The Federal Reserve Bank of Dallas says that for power companies the moral to the story is that the cost of the 2021 deep freeze justifies weatherization.
The same goes for homeowners, who may still be wearing shorts at Thanksgiving, but come February the weather may freeze and they should know what tips to take to protect their homes and autos.
The Austin American-Statesman says that before you think about your home or car, think about you and your family, and stock up on the essentials before extreme weather hits your Texas neighborhood:
Flashlights and batteries: Avoid using candles so have multiple flashlights and plenty of extra batteries on hand for power outages.


Bottled water: Keep one gallon of bottled water per person per day for drinking. Try to have a 7-day supply with extra water for bathing and washing dishes.


Nonperishable Food and Snacks: Have a manual can opener available to open cans of food. Have plenty of snacks such as granola bars and crackers available.


First Aid Kit: The basics such as bandages, thermometer, etc.


Medications: Have an extra supply of any medication that you or your family members take on a regular basis.


Medical equipment: Have a backup power plan for any needed medical equipment at home.


Warm clothing and blankets: In case the power goes out.


Diapers and wipes: Have at least a week on hand.


Pet food and supplies: Do not forget to have extra pet supplies stockpiled.


Portable cell phone chargers: Come in hand when the power is out.
Tips for Preparing Your Home for Freezing Weather
What about your home? Here are some tips to get it ready for another deep freeze:
Contact Your Insurance Agent: Understand your insurance policy and what it covers. You and your insurance agent can decide if your policy adequately protects you and your home in the event of a major storm.


HVAC Checkup: Now is the time to have your heater or furnace looked at. Proper maintenance on units can extend their lifespan and many homeowners found out in February 2021 that there were no HVAC repair people available when they had problems during the storm. If your unit has issues, find out now, and have it corrected before a freeze sets in.


Check Your Water Heater: Just like your furnace, have your water heater examined now in good weather conditions to find out if it needs repair or replacement.


Get Your Chimney and Dryer Vents Cleaned: Both your fireplace chimney and dryer vent can lead to home fires if they are not properly serviced and periodically checked.


Have a Plumber Check for Leaks: Have a plumber do a routine check of all your pipes, faucets, and toilets to catch any problems before they occur.


Buy Pipe Insulation: Have pipe insulation or faucet covers to cover exposed pipe during extremely low temperatures.


Check Your Attic Insulation: Your insulation may compress over time and not provide your home with the proper coverage come winter.


Have Your Roof Checked: A professional should be hired to examine your roof for any issues or repairs that are needed.


Clean Your Gutters: Clogged gutters can lead to flooding and damage to your home.


Weatherize Around Doors and Windows: You should not be feeling a draft around your doors or windows. Add weather stripping around doors and caulk around windows to keep your home warm all winter.


Change Batteries in Smoke Detectors and Carbon Monoxide Detectors


Locate Your Water Shut-Off: Many homeowners do not know where their main water shutoff valve is located. In the event of a burst pipe, it is important to be able to prevent water from entering the home by Turning off the main valve.


Outside Faucets: Remove all connected hoses and wrap faucets with towels or Styrofoam insulators for the winter.


Irrigation System: Turn off and drain your irrigation system and protect your backflow device by draining and wrapping it in insulation.
In the event of freezing weather, you can open cabinets beneath kitchen and bathroom sinks to allow warmer air to reach your pipes.
Some people like to drip one cold water faucet in the home during a freeze to allow water to run through the pipes and help prevent freezing. If you do this, use a faucet that is the greatest distance from your main shutoff valve.
Tips for Preparing Your Auto for Freezing Weather
Much like the advice for your home appliances such as your furnace and water heater, the best tip for freezing weather is to have your vehicle properly serviced and running in peak condition before cold temperatures hit.
Ideally, your vehicle will sit idle during any storms but there are times when people must drive in freezing temperatures. Here are some tips:
Keep Warm Clothes, Gloves, Hat, and Blanket in the Car
Keep a flashlight and Extra Batteries in the Car
Keep a First Aid Kit in the Car
Have Cat Litter or Sand on Hand for Traction
Always Carry Jumper Cables
Have Bottled Water and Non-Perishable Snacks on Hand
Carry an Ice Scraper to Remove Ice from the Car
Switch to Winter Tires if You Have that Option
Maintain Proper Tire Pressure and Always Keep at Least Half a Tank of Gas in the Car
Bridgestone Tire says that if you get stuck in freezing weather conditions while driving, do not run your car for long periods of time, but turn it on long enough to stay warm, and then turn it off again to avoid carbon monoxide poisoning.
Ultimately the best freezing weather advice for Texas drivers is to stay clear of the roads until the driving conditions improve.