Misc
Rubik's Cube Solution in 0.38 Seconds
Posted by: Communications Team | June 25, 2018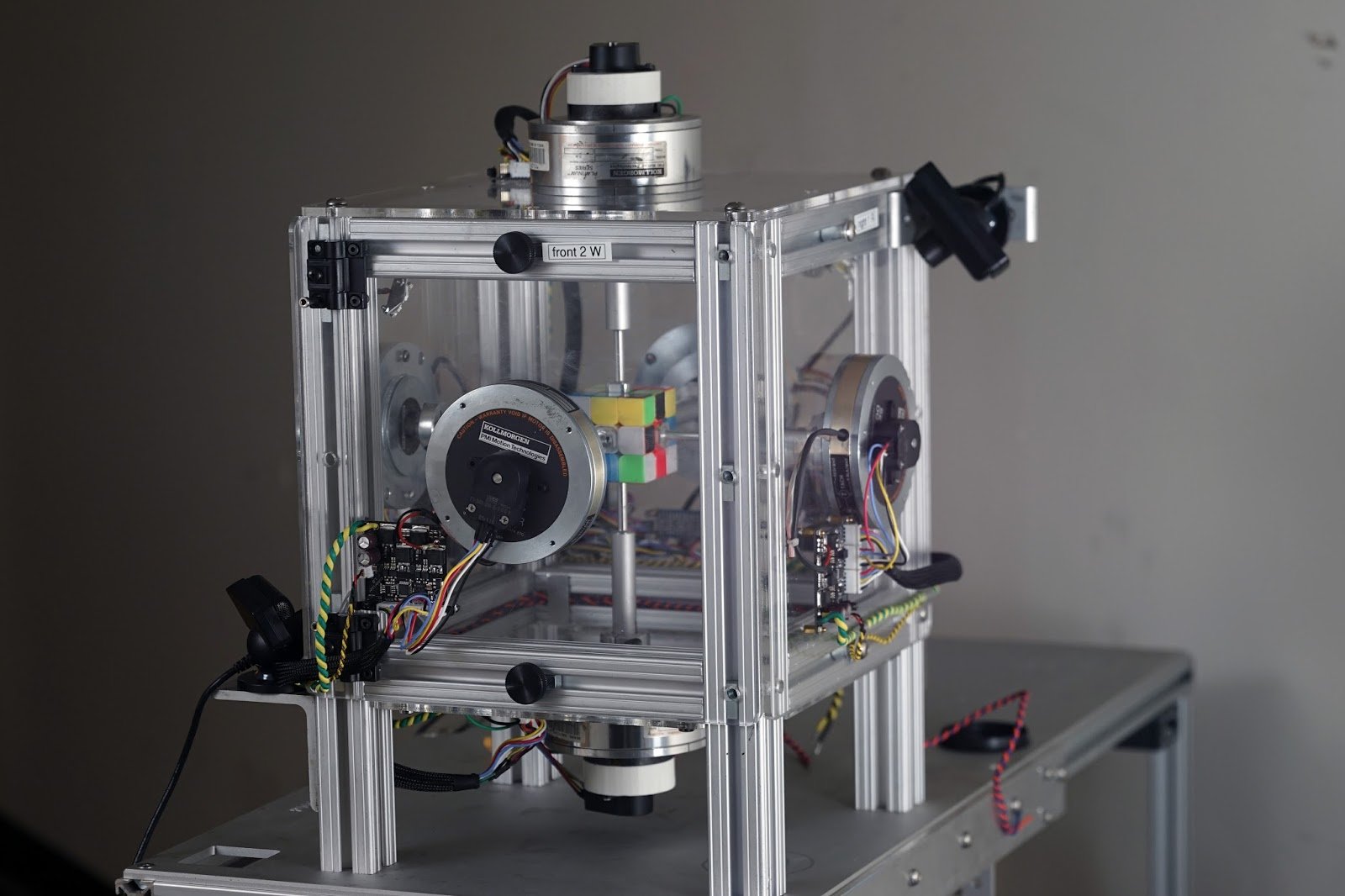 We decided that it was time for something amazing and fascinating for our blog. So, we're applauding two inventors and consummate problem solvers this week – Ben Katz and Jared DiCarlo.
Dynamic Duo
Ben Katz, an MIT student, and his partner Jared Di Carlo decided a better build quality of the solving machine would lead to faster finishing times in solving the Rubik's Cube. Their invention could solve the 1980s puzzle phenomenon in just .38 seconds. To see the solve video, click here. The previous record—which was held by German Albert Beer's Sub1 Reloaded robot—completed the cube in .637 seconds.
According to the blog that Ben Katz and Jared DiCarlo created to show off their 'Rubik's Contraption', the bot relies on six Kollmorgen ServoDisc U9-series motors—often used in high-precision, high-speed robot arms—to manipulate the puzzle cube at blinding speeds. To the naked eye, the movements are nothing but a momentary blur of colored plastic quickly coming into perfect order.
Solution Details
"Our solve time of 0.38 seconds includes acquiring the image from the webcam, detecting colors, finding a solution, and actually rotating the faces of the cube," states DiCarlo. "In the video, the machine is solving a 'YJ Yulong Smooth Stickerless Speed Cube Puzzle', available on Amazon for $4.55. We used the cheapest cube we could find on Amazon Prime because we thought we'd end up destroying many of them, but somehow ended up only going through 4 cubes and 100's of solves. "
The contraption is built from:
6 Kollmorgen ServoDisc U9/N9-series motors. 2 were taken from an old robot arm project, the rest were found pretty cheaply on Ebay. Each motor has a US Digital optical encoder on the back, also purchased for a bargain on Ebay.
6 custom motor drivers.
2 PlayStation Eye cameras
1 Rubik's Cube
No Guiness World Record
Katz and Di Carlo's robot hasn't been reviewed by Guinness World Record officials yet, which is unfortunate, because the creators claim it could solve a Rubik's Cube even faster than 0.38-seconds. Improving its efficiency, however, apparently requires time-consuming debugging, which the pair seem less interested in doing just to earn a fancy piece of paper and 15 additional minutes of internet fame. Check the duo's blog to see in detail how they built their robot. And see one of their less successful attempts in solving here. They call it a "Cubesplosion."
Dean and Draper
We hope that you enjoyed our diversion from serious topics this week. When you want to talk about insurance, please give us a call.
Dean& Draper is a Trusted Choice insurance agency representing over 200 insurance companies. For over 35 years we have offered a trusted freedom of choice to our clients. ContactUs.
The recommendation(s), advice and contents of this material are provided for informational purposes only and do not purport to address every possible legal obligation, hazard, code violation, loss potential or exception to good practice. Dean & Draper Insurance Agency specifically disclaims any warranty or representation that acceptance of any recommendations or advice contained herein will make any premises, property or operation safe or in compliance with any law or regulation. Under no circumstances should this material or your acceptance of any recommendations or advice contained herein be construed as establishing the existence or availability of any insurance coverage with Dean & Draper Insurance Agency. By providing this information to you, Dean & Draper Insurance Agency does not assume (and specifically disclaims) any duty, undertaking or responsibility to you. The decision to accept or implement any recommendation(s) or advice contained in this material must be made by you.
©2018 Dean & Draper Insurance Agency All Rights Reserved.