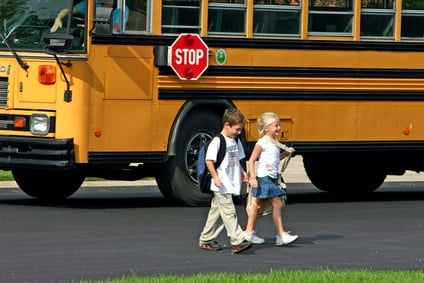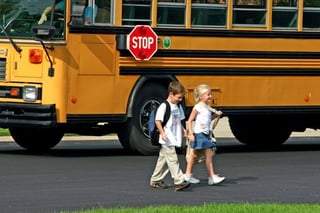 For 23 million students nationwide, the school day begins and ends with a trip on a school bus according to the National Highway Traffic Safety Administration. And the greatest risk is not actually riding the bus, it's approaching or leaving the bus. In an effort to keep students and drivers out of harm's way, we have collected some excellent safety tips for both students and drivers and want to share them with you.
Drivers
Learn and obey the school bus laws in your state. Learn the "flashing signal light system" that school bus drivers use to alert motorists of pending actions:
Yellow flashing lights indicate that the bus is preparing to stop to load or unload children. Motorists should slow down and prepare to stop their vehicles.
Red flashing lights and extended stop arms indicate that the bus has stopped, and that children are getting on or off. Motorists must stop their cars and wait until the red lights stop flashing, the extended stop sign is withdrawn, and the bus begins moving before they can start driving again.
When backing out of a driveway or leaving a garage, watch out for children walking or bicycling to school.
Don't block the crosswalk when stopped at a red light or waiting to make a turn, forcing pedestrians to go around you; this could put them in the path of moving traffic
In a school zone when flashers are blinking, stop and yield to pedestrians in the crosswalk or intersection.
Never pass a vehicle stopped for pedestrians.
Never pass a bus from behind – or from either direction if you're on an undivided road – if it is stopped to load or unload children.
The area 10 feet around a school bus is the most dangerous for children; stop far enough back to allow them space to safely enter and exit the bus.
And pack your patience. Getting upset, rushing through the morning commute, and allowing your frustration to get the best of you is a recipe for disaster.
Students
Get to the bus stop at least five minutes before the bus is scheduled to arrive.
When the bus approaches, stand at least three giant steps (6 feet) away from the curb, and line up away from the street.
Wait for the bus to arrive, watch for red flashing lights and the stop sign to be extended, and cross only when all traffic has stopped. Look left, right, and left again before crossing.
Wait until the bus stops, the door opens, and the driver says that it's okay before stepping onto the bus.
If you have to cross the street in front of the bus, walk on the sidewalk or along the side of the road to a point at least five giant steps (10 feet) ahead of the bus before you cross. Be sure that the bus driver can see you, and you can see the bus driver.
Never walk behind the bus.
Walk at least three giant steps away from the side of the bus.
If you drop something near the bus, tell the bus driver. Never try to pick it up because the driver may not be able to see you.
When getting off the bus make sure you walk (not run) three more steps away from the door. This is the best place to be around a bus. Stay away from the bus wheels and watch out for moving cars!
For additional safety tips for traveling to or from school, visit these websites: National Highway Traffic Safety Administration, About School, and the National Safety Council.
Looking Out for You
At Dean & Draper, we are always here to provide you with useful information, answer your questions, and help you select the right insurance for your unique circumstances.
Dean & Draper is a Trusted Choice insurance agency representing over 200 insurance companies. For over 35 years we have offered a trusted freedom of choice to our clients. ContactUs.
The recommendation(s), advice and contents of this material are provided for informational purposes only and do not purport to address every possible legal obligation, hazard, code violation, loss potential or exception to good practice. Dean & Draper Insurance Agency specifically disclaims any warranty or representation that acceptance of any recommendations or advice contained herein will make any premises, property or operation safe or in compliance with any law or regulation. Under no circumstances should this material or your acceptance of any recommendations or advice contained herein be construed as establishing the existence or availability of any insurance coverage with Dean & Draper Insurance Agency. By providing this information to you, Dean & Draper Insurance Agency does not assume (and specifically disclaims) any duty, undertaking or responsibility to you. The decision to accept or implement any recommendation(s) or advice contained in this material must be made by you.
©2015 Dean & Draper Insurance Agency All Rights Reserved.
Click to edit your new post...