Are You Addicted to Your Smart Phone?
Posted by: Communications Team | October 21, 2018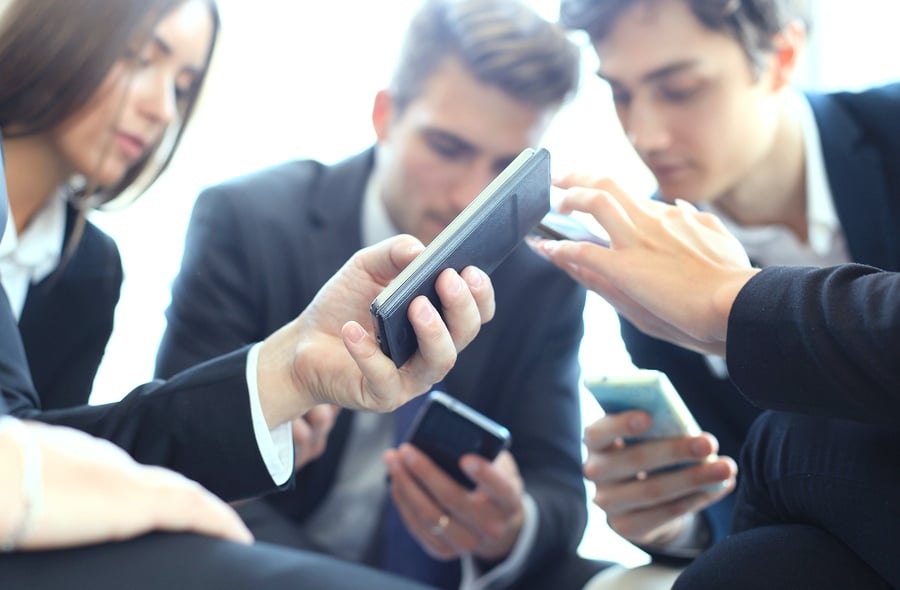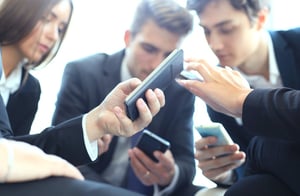 Want to know if you're on the edge of becoming addicted to your cell phone? Almost 52% of smart phone users exhibit signs of addiction to their devices.
Let's begin with some statistics
The average American checks their cell phone 47 times each day, according to research by Deloitte. That's already quite a lot, and if you find yourself looking at your phone above and beyond that measure, you might be suffering from nomophobia. Yes, there's even a name for the addiction – nomophobia.
Overall, the number of times users look at their phones has remained nearly constant for the past three years at approximately 47 times per day. Similarly, 89 percent of consumers looked at their phones within an hour of waking up, a yearly increase of only one percent. Before going to sleep 81 percent looked at their phones within an hour, consistent with 2016.
Take your measure
Download one of the many new apps that actually track your smartphone use. Apps such as BreakFree and Moment automatically track your smartphone use. Such sites also allow you to track progress you make with your addiction.
Identify signs of a possible addiction
Every individual with a cell phone looks for notifications of email, messages, "likes" on social media, or missed calls. But what may seem like harmless checking may be a bigger problem, especially if you peek at your smartphone every couple of minutes. Asking yourself the following questions may help you realize that you have an addiction:
Have I been pulled over for texting and driving?
Do I use red lights to answer social media posts?
Do people tell me to get off of my phone and pay attention to them?
Do I use my smartphone at inappropriate times, such as at doctor's appointments or meetings with my kid's teacher?
Is my smart phone always in my hand or close by?
Does my battery last through the day?
Does the smart phone join me in the bathroom?
Do I use my smart phone in social situations, such as dinners with colleagues?
Is my smartphone use causing considerable problems in my life such as legal issues, falling grades, or isolation from loved ones?
Does it take me much longer to complete tasks now because I'm checking my cell phone repeatedly?
Have I found it difficult to make conversation with people face-to-face?
Watch for signs of withdrawal
Another hallmark of addiction is withdrawal when you try and cut back, or repeated failed attempts to cut back. Watching for the signs of withdrawal when you don't use your cell phone can help you know if you're addicted. The following are signs of smartphone withdrawal:
Restlessness
Anger
Irritability
Difficulty concentrating
Sleeping problems
Craving access to your smartphone
Consult with family and friends
If you've recognized typical signs of a smartphone addiction but are still unsure, talk to a trusted family member or friend. Open up about your concerns and ask if the person has noticed any potential problems with your smartphone use. The answer may be painful to hear, but someone who cares for you will give you an opinion in a way that won't hurt your feelings. The person may even help you curb an addiction.
Dean and Draper
We got so interested in this week's topic that we took a look at the people around us not only at the office but also doing daily errands, eating in restaurants, driving, standing in lines (potentially our number one place for reaching for the phone), and even in church.
If you are concerned with the amount of time you spend on your phone we challenge you to download one of the apps and track your phone use.
Dean& Draper is a Trusted Choice insurance agency representing over 200 insurance companies. For over 35 years we have offered a trusted freedom of choice to our clients. ContactUs.
The recommendation(s), advice and contents of this material are provided for informational purposes only and do not purport to address every possible legal obligation, hazard, code violation, loss potential or exception to good practice. Dean & Draper Insurance Agency specifically disclaims any warranty or representation that acceptance of any recommendations or advice contained herein will make any premises, property or operation safe or in compliance with any law or regulation. Under no circumstances should this material or your acceptance of any recommendations or advice contained herein be construed as establishing the existence or availability of any insurance coverage with Dean & Draper Insurance Agency. By providing this information to you, Dean & Draper Insurance Agency does not assume (and specifically disclaims) any duty, undertaking or responsibility to you. The decision to accept or implement any recommendation(s) or advice contained in this material must be made by you.
©2018 Dean & Draper Insurance Agency All Rights Reserved.
Sources: https://www.wikihow.com/Know-if-You%27re-Addicted-to-Your-Smart-Phone
https://bestlifeonline.com/smartphone-addiction/
https://www2.deloitte.com/us/en/pages/technology-media-and-telecommunications/articles/global-mobile-consumer-survey-us-edition.html