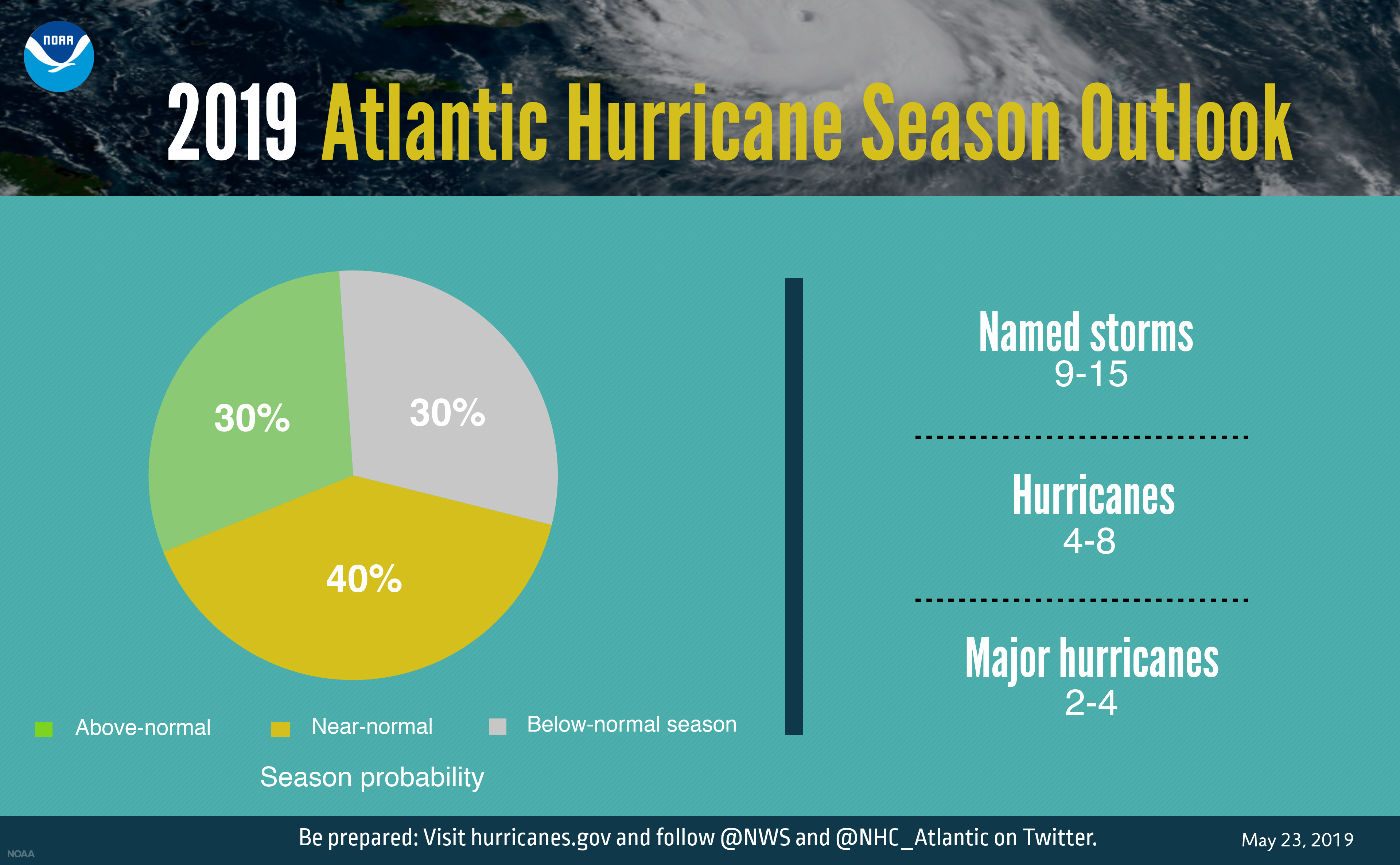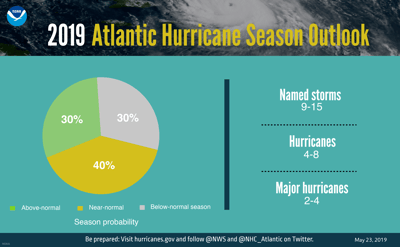 With all the crazy weather we've had over the past few months, we thought it would be a great idea to mention that the 2019 Hurricane Season started yesterday, June 1 and continues through November 30.
During our research for this blog, we found dozens of sources for preparing, surviving, and cleaning up should a hurricane blow through this season. We're giving you an array of sources to help you prepare for this year's hurricane season.
The NOAA website has a great video overview of the 2019 Atlantic Hurricane Season Outlook presented by Dr. Gerry Bell, Lead Seasonal Hurricane Forecaster.
Predictions
NOAA's Climate Prediction Center is predicting that a near-normal Atlantic hurricane season is most likely this year. This outlook forecasts a 40% chance of a near-normal season, a 30% chance of an above-normal season and a 30% chance of a below-normal season.
Technology Upgrades
The 2019 hurricane season marks the first time NOAA's fleet of Earth-observing satellites includes 3 operational next-generation satellites. Unique and valuable data from these satellites feed the hurricane forecast models used by forecasters to help users make critical decisions days in advance
NOAA's National Weather Service (NWS) is making a planned upgrade to its Global Forecast System (GFS) flagship weather model – often called the American model – early in the 2019 hurricane season. NOAA's National Weather Service is making the first major upgrade to the dynamical core of the model in almost 40 years and will improve tropical cyclone track and intensity forecasts..
NOAA's National Hurricane Center and NWS office in San Juan will expand the coastal storm surge watches and warnings in 2019 to include Puerto Rico and the U.S. Virgin Islands. In addition, NHC will display excessive rainfall outlooks on its website, providing greater visibility of one of the most dangerous inland threats from hurricanes.
Also, this season, NOAA's Hurricane Hunter aircraft will collect higher-resolution data from upgraded onboard radar systems. These enhanced observations will be transmitted in near-real time to hurricane specialists at the National Hurricane Center, the Central Pacific Hurricane Center and forecasters at NWS Weather Forecast Offices.
Where to Get Answers
We have identified some excellent sources for storm information, putting together an emergency kit, what to take with you, evacuation and routes, protecting your property, and post hurricane clean up.
City of Houston
In addition to useful information for hurricane preparedness, the City of Houston has AlertHouston on Twitter. Register for alerts at http://houstonemergency.org.
Harris County
From the Harris County website you can find links to Centerpoint for power outages, Transtar for traffic reports, and Harris Country Flood district rainfall and bayou levels. The Emergency Essentials Kit is a great place to start preparing your own kit.
Fort Bend County
In addition to the hurricane basics, the Fort Bend County website provides information on hurricane categories and wind speeds, evacuation plans, and planning for diabetes and special health care needs.
Montgomery County Office of Homeland Security and Emergency Management
For great ideas on how to keep your loved ones safe, Montgomery County has developed a mobile app that helps its citizens properly prepare and stay informed during and after a disaster. You will be able to create your family emergency plan and get a list of the go-kit supplies in just under a minute.
FEMA
One of the best places to find a comprehensive manual for How to Prepare for a Hurricane, download FEMA's manual here.
Dean and Draper
During your preparation for hurricane season if you have questions about your insurance, we can give you solid answers. We welcome your call.
Dean& Draper is a Trusted Choice insurance agency representing over 200 insurance companies. For over 35 years we have offered a trusted freedom of choice to our clients. ContactUs.
The recommendation(s), advice and contents of this material are provided for informational purposes only and do not purport to address every possible legal obligation, hazard, code violation, loss potential or exception to good practice. Dean & Draper Insurance Agency specifically disclaims any warranty or representation that acceptance of any recommendations or advice contained herein will make any premises, property or operation safe or in compliance with any law or regulation. Under no circumstances should this material or your acceptance of any recommendations or advice contained herein be construed as establishing the existence or availability of any insurance coverage with Dean & Draper Insurance Agency. By providing this information to you, Dean & Draper Insurance Agency does not assume (and specifically disclaims) any duty, undertaking or responsibility to you. The decision to accept or implement any recommendation(s) or advice contained in this material must be made by you.
©2019 Dean & Draper Insurance Agency All Rights Reserved.