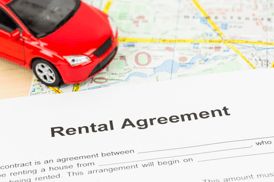 Remember the last time you were standing at the rental car counter holding that contract that is pages long and in really small print? Did you hesitate in the section about insurance? That's the point where you have to decide to buy or not to buy the rental company's insurance. Ugh! What to do?
The Insurance Information Institute has some great tips on making that decision in their article Rental Car Insurance. Some of their ideas are included below.
Make two phone calls before you rent a car
Call Your Insurance Company
If you own a car, find out how much coverage you already have. In most cases, whatever insurance and deductibles provided by your auto policy would apply to a rental car, providing you are using the car for recreation, not business. However, if you have dropped either comprehensive or collision on your own car as a way to reduce costs, you will not be covered if your rental car is stolen or damaged in an accident.
Ask if your insurance company pays for administrative fees, loss of use or towing charges. An insurance rider may be available to cover some of these costs, which would make it less expensive than purchasing coverage through the rental car company.
Talk to Your Credit Card Company
Most credit card companies provide some level of insurance for rental cars. Call the toll-free number on the back of the card you plan to use to rent the car. Ask them to send you the rental car coverage information in writing. Usually the credit car benefits are secondary to either your personal auto insurance policy or the coverage offered by the rental car company.
Insurance benefits differ widely by both the credit card company and/or the bank that issues the card, as well as by the level of credit card used. Credit cards generally do not provide personal liability coverage. Some credit card companies may provide coverage for towing, but may not provide for diminished value or administrative fees.
Considering Alternative Rental Options?
The Internet has made other alternatives to brick and mortar car rental companies easy to find. Like Peer-to-Peer car services which enable consumers to rent personally owned cars from others and car sharing programs allowing consumers to pick up cars in a wide range of locations for short or long periods of time and usually require a monthly or annual fee.
Car Sharing and Peer-to-Peer Car Rental Insurance
The insurance offered by these companies is not standardized. It is therefore important to go to the company's website to read the insurance coverage information carefully. If you have any questions, call the customer service number listed on the website. And contact your auto insurer if you feel you need more information to make an educated insurance coverage decision.

Need Some Help Sorting Out the Options?
That's exactly what we are here for – to answer your questions and to meet your insurance needs. We welcome your calls.
Dean & Draper is a Trusted Choice insurance agency representing over 200 insurance companies. For over 35 years we have offered a trusted freedom of choice to our clients. ContactUs.