D&D News
Stepping Into the Future With Dean & Draper Insurance Agency
Posted by: Communications Team | August 19, 2015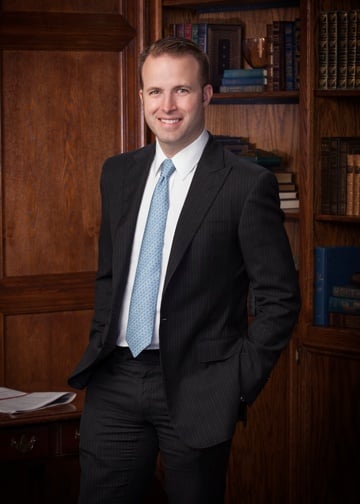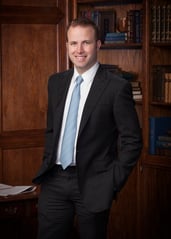 During the first six months after his sudden father's passing in July 2013, Kyle Dean ran the family business by constantly asking himself, "What would Dad do?" The late Bob Dean is a legend in the insurance industry and among friends. Well known for successfully building his business from the ground up and providing personal service second to none, as well as for his kindness and one-liners, the senior Dean was a hard act to follow. Kyle Dean's biggest challenge in becoming the president and CEO of Dean & Draper was not the workload or the pressure that comes with the position; it was the constant struggle of trying to run the business as his father's versus of his own.
Then one day a wise mentor and friend told him, "It's your company now. Do it the way you would do it. That's what your father would have wanted." From that day on, Kyle took the reigns and began running his company. Besides being a wonderful father, Bob was Kyle's closest friend and trusted mentor. As Kyle grew in the business, Bob often turned to Kyle to toss around ideas and make joint decisions on vital issues. The two shared a mutual respect and mutual influence in business matters. Though they have unique personalities and management styles, the two share the same values and ideals, and it shows in the day-to-day rhythm of the agency.
Nurturing A Family Culture
Dean & Draper has been a family business since its inception 35 years ago. Both Bob and Kyle view the staff as an extension of their family. Kyle's philosophy is that home life affects work, and work affects home life. In order to help people maintain that healthy balance, he strives to create and maintain an environment where people love to come to work. And his door is truly always open. Pride can be a devastating stumbling block, Kyle says. That's why the staff is an integral part of the decision-making process. He wants to hear from the team about what is working and what isn't, what they appreciate and what falls flat, so that he can make the best possible choices for the company, its people and their clients. "You can't please everyone," says Kyle Dean, "but if I can please the majority, I feel like I've accomplished something."
Employees say the culture has not changed throughout their tenure, whether they have been with the company for a short time, or from the beginning. They work hard, play hard and treat each other like family. On any given day, you can walk the halls of Dean & Draper and hear people laughing and visiting. Socializing is not frowned upon though, nor is Kyle a micro-manager. He believes in hiring responsible adults who mirror the integrity and values of the Dean & Draper family, setting standards for performance, giving them the tools they need, and then getting out of the way so they can do their jobs while enjoying their work environment.
"The insurance business impacts many personal aspects of an individual, and can be quite stressful," says Ralph Howard, Chief Operating Officer of Dean & Draper. "We encourage a balance between work and fun, and we find that people do a better job when they're happy." To show appreciation for their hard work and loyalty, the company regularly hosts social events, such as half-days spent at Dave & Busters, ice cream socials and Easter egg hunts. The Dean & Draper folks like to get together over food and games, just like any other family.
Catching Up With Dean & Draper
In the wake of Bob Dean's passing, you could feel the sadness in the air and see the fear in the eyes of the staff. They had lost their leader and the head of the family. As they mourned the loss, they couldn't help but wonder about their future and that of Dean & Draper. While Kyle was already a well-respected member of the management team and Bob's right-hand man, no one knew what would happen next. Everyone held their collective breath . . . including the insurance industry as a whole.
With regard to the agency, Kyle's first concern was the staff, knowing that they must be mourning, and simultaneously worrying about job security. Stepping into his role as their new leader, he returned to work quickly and reassured them that there was no cause for concern. In the days and weeks following Kyle's succession as president and CEO, he received several offers to sell the company. However, Kyle had no intention of walking away from the agency and home he and his father built. In a 2013 press release, Kyle put everyone's uncertainty to rest. "We are strong and we are moving forward," he said. It's business as usual at Dean & Draper. I am humbled and honored by my father's faith and trust in me to carry on his legacy."
Fast forward two years, and the agency is indeed going strong. The same management team is still in place, demonstrating Dean & Draper's rock solid foundation and ability to withstand change. "The staff has adjusted well to the shift in leadership," says Howard. "It didn't take them long to see that Kyle was going to take control, take advice and take action." Employees describe Kyle as warm and friendly with a dose of pragmatism, and they have complete confidence in him.
The relationships with carriers that Bob, Kyle and the team cultivated over the years remains strong, and the agency continues to thrive. The business grows organically through sales and service, as well as through savvy acquisitions that enable Dean & Draper to expand their offerings with services that complement their current portfolio. Kyle frequently collaborates with partner and cousin Gene Darnell, COO of Dean & Draper subsidiary Benefits Solutions. With 26 years and counting at the agency, Darnell has his finger on the pulse of the business, and is vital contributor to its daily functioning.
Vision for the Future
Kyle likens running a business to chess in that each decision made affects the moves to come. His forward-thinking strategy for the agency is three-fold: people, technology, community. Kyle continues to focus on building a strong, sustainable workforce. He empowers them with the training and tools they need to do their jobs, and maintains the culture of family at the heart of Dean & Draper so they enjoy coming to work every day.
Staying current on technology developments and trends is a large part of providing the tools the staff needs to perform effectively. The agency recently underwent a series of high-tech upgrades to streamline business operations and keep their systems running efficiently. The changes took place behind the scenes in a smooth transition that went virtually undetected by its users. Dean & Draper provides an online service portal that allows customers to review coverage options, access and manage their accounts, and print their insurance cards. Customers can also connect with Dean & Draper through a variety of social media outlets, including Facebook, Twitter and YouTube.
Lastly, Kyle believes wholeheartedly in giving back to the insurance industry and the community as a whole. He has served on the board of Independent Insurance Agents of Houston for several years, and will be inducted as its president this September. He was honored to fulfill his father's final year of duties on the board of Independent Insurance Agents of Texas. He also maintains legislative involvement at a state level to advocate for Houston area agents.
Serving the Community
Last year, Dean & Draper participated in the Chubb Group's annual charity golf tournament. Chubb donated funds in the name of each winner to the charity of their choice. Dean & Draper chose to designate their $1,500 winnings to Camp Hope, an organization that magnifies the Dean family's passion for patriotism. The agency went a step further and matched their tournament winnings, for a total donation of $3,000 to help fund the work of Camp Hope. A branch of the PTSD Foundation of America, Camp Hope provides interim housing for military service personnel, veterans and their families as they struggle with combat-related Post Traumatic Stress Disorder (PTSD).
Each year, the Greater Houston YMCA organizations host the Operation Backpack drive to deliver school supplies to children in need. The Dean & Draper team collected 58 new backpacks and filled them with much-needed school supplies. "Supporting the children of our community and setting them up for successful learning is a crucial investment in our future," says Dean. "Without the contributions of a caring community, these kids may not have the tools they need to learn and grow up to be productive members of society."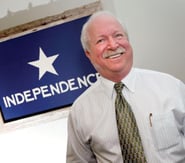 Throughout his lifelong commitment to building a strong agency, the elder Dean crafted a business that would continue to grow and thrive in his absence. The Dean duo worked hand in hand over the years, formulating strategies for the future based on shared values and philosophies. Both agreed the people who make up Dean & Draper are its most valuable asset and the driving force behind the agency's success.Dean & Draper is a true Texas success story, born here and flourishing as the business grows and changes over time. The company has been named a Top 100 Privately Held Independent Insurance Agency in the U.S. (Insurance Journal), a Top 5 Independent Insurance Agency (Houston Business Journal) and an IIABA Best Practices Agency. Above all other accolades, the character and integrity of the agency are the meaningful and rewarding achievements to management and the entire team, a defining code they live by every day. As a result, Dean & Draper is one of the most respected insurance agencies in the industry, garnering loyalty and respect among their peers.

Now celebrating the Dean & Draper's 35th anniversary, Kyle follows in his father's footsteps, but with a new pair of shoes. He continues to uphold the high standards of integrity and quality of products and service that Bob set over more than three decades. And he's doing it as his own person – the man his father valued and trusted as a business partner for many years. Bob must be so proud.
The recommendation(s), advice and contents of this material are provided for informational purposes only and do not purport to address every possible legal obligation, hazard, code violation, loss potential or exception to good practice. Dean & Draper Insurance Agency specifically disclaims any warranty or representation that acceptance of any recommendations or advice contained herein will make any premises, property or operation safe or in compliance with any law or regulation. Under no circumstances should this material or your acceptance of any recommendations or advice contained herein be construed as establishing the existence or availability of any insurance coverage with Dean & Draper Insurance Agency. By providing this information to you, Dean & Draper Insurance Agency does not assume (and specifically disclaims) any duty, undertaking or responsibility to you. The decision to accept or implement any recommendation(s) or advice contained in this material must be made by you.