Personal Lines
|
Misc
January is National Glaucoma Awareness Month
Posted by: Linda Kay | January 10, 2016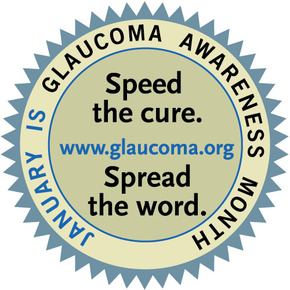 An astounding 3 million people in the United States have glaucoma. The National Eye Institute projects this number will reach 4.2 million by 2030, a 58 percent increase.
Glaucoma is called "the sneak thief of sight" since there are no symptoms and once vision is lost, it's permanent. As much as 40% of vision can be lost without a person noticing.
Glaucoma is the leading cause of preventable blindness. Moreover, among African American and Latino populations, glaucoma is more prevalent. Glaucoma is 6 to 8 times more common in African Americans than Caucasians.
What is Glaucoma?
Glaucoma is a group of eye diseases that gradually steal sight without warning. Although the most common forms primarily affect the middle-aged and the elderly, glaucoma can affect people of all ages.
Vision loss is caused by damage to the optic nerve. This nerve acts like an electric cable with over a million wires. It is responsible for carrying images from the eye to the brain.
There is no cure for glaucoma—yet. However, medication or surgery can slow or prevent further vision loss. The appropriate treatment depends upon the type of glaucoma among other factors. Early detection is vital to stopping the progress of the disease. Watch a video from the research scientists working to find a cure.
Types of Glaucoma
There are two main types of glaucoma: primary open-angle glaucoma (POAG), and angle-closure glaucoma. These are marked by an increase of intraocular pressure (IOP), or pressure inside the eye. When optic nerve damage has occurred despite a normal IOP, this is called normal tension glaucoma.
Secondary glaucoma refers to any case in which another disease causes or contributes to increased eye pressure, resulting in optic nerve damage and vision loss. Read more about Types of Glaucoma.
Regular Eye Exams are Important
Glaucoma is the second leading cause of blindness in the world, according to the World Health Organization. In the most common form, there are virtually no symptoms. Vision loss begins with peripheral or side vision, so if you have glaucoma, you may not notice anything until significant vision is lost.
The best way to protect your sight from glaucoma is to get a comprehensive eye examination. Then, if you have glaucoma, treatment can begin immediately.
Glaucoma is the leading cause of blindness among African-Americans. And among Hispanics in older age groups, the risk of glaucoma is nearly as high as that for African-Americans. Also, siblings of persons diagnosed with glaucoma have a significantly increased risk of having glaucoma. Read about diagnostic glaucoma tests.
Risk Factors
Are you at risk for glaucoma? Those at higher risk include people of African, Asian, and Hispanic descent. Other high-risk groups include: people over 60, family members of those already diagnosed, diabetics, and people who are severely nearsighted. Regular eye exams are especially important for those at higher risk for glaucoma, and may help to prevent unnecessary vision loss.
Dean & Draper
We encourage you to talk with your family and friends about glaucoma. If you have glaucoma, don't keep it a secret. Let your family members know. Suggest that everyone get tested regularly. If you have questions about your health insurance coverage, we're only a phone call away.
Dean& Draper is a Trusted Choice insurance agency representing over 200 insurance companies. For over 35 years we have offered a trusted freedom of choice to our clients. ContactUs.
The recommendation(s), advice and contents of this material are provided for informational purposes only and do not purport to address every possible legal obligation, hazard, code violation, loss potential or exception to good practice. Dean & Draper Insurance Agency specifically disclaims any warranty or representation that acceptance of any recommendations or advice contained herein will make any premises, property or operation safe or in compliance with any law or regulation. Under no circumstances should this material or your acceptance of any recommendations or advice contained herein be construed as establishing the existence or availability of any insurance coverage with Dean & Draper Insurance Agency. By providing this information to you, Dean & Draper Insurance Agency does not assume (and specifically disclaims) any duty, undertaking or responsibility to you. The decision to accept or implement any recommendation(s) or advice contained in this material must be made by you.
©2016 Dean & Draper Insurance Agency All Rights Reserved.