Health & Wellness
Dean & Draper COVID-19 Update
Posted by: Dean & Draper Insurance Agency | March 16, 2020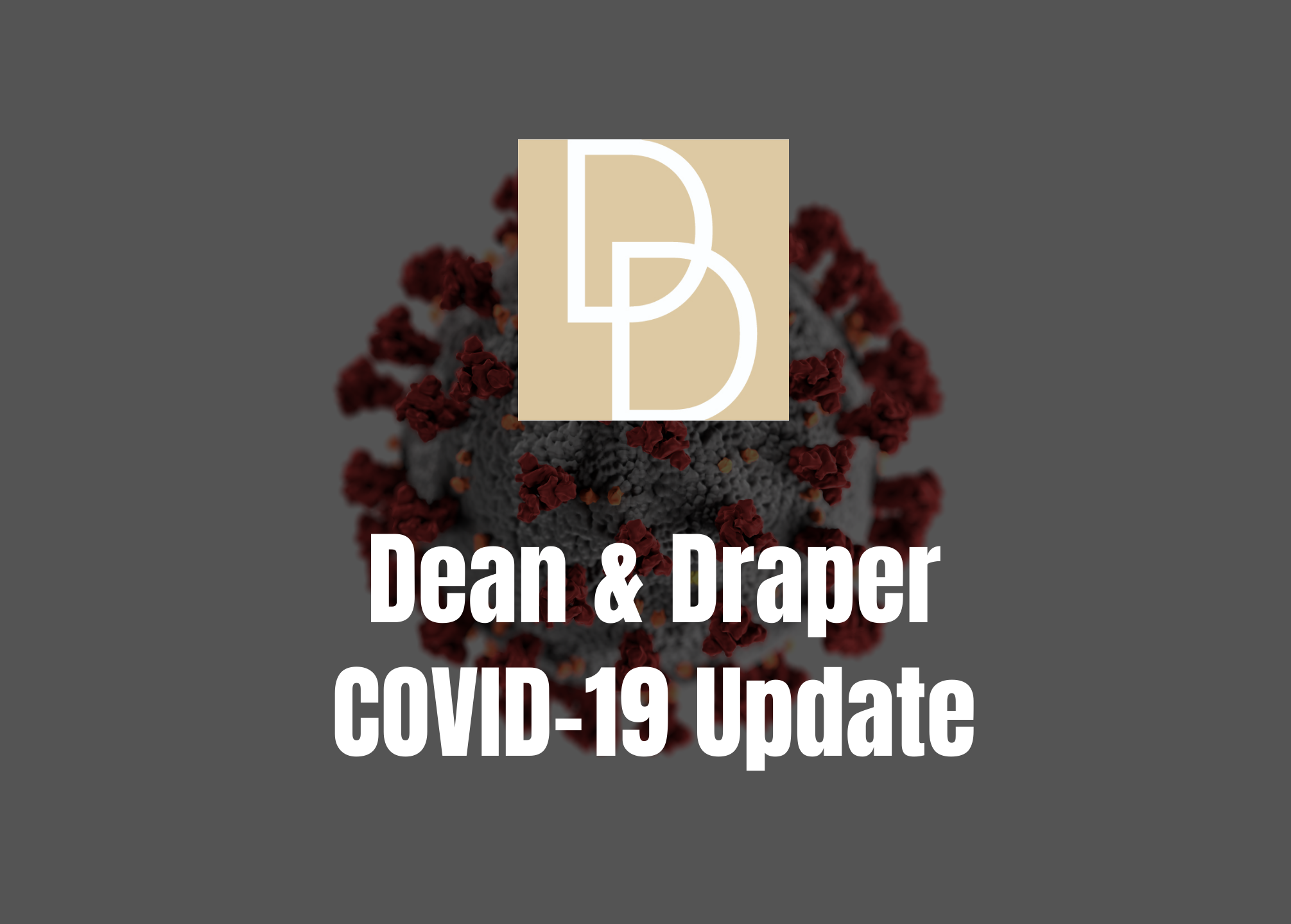 A message from our CEO to our colleagues, clients, and community:
We sincerely appreciate the trust and confidence you placed in us to serve your insurance and risk management needs. During this time of uncertainty, the safety, protection, and well-being of our customers and employees are of utmost importance. We are actively monitoring the COVID-19 current events and will be taking any necessary steps to support the safety and health of our employees, clients and community. We will continue to monitor and follow any guidance from federal, state, and local authorities and have a Business Continuity Plan in place should the need arise.
Being a relationship-based business, we interact with our community on a regular basis. However, we are taking steps to limit the exposure and spread of the virus with several precautionary measures. We have placed restrictions on travel and group events have been placed on hold for now. We are educating and reminding staff to be extra vigilant, hygienic, and safe, not only within our office, but out in the community. We are also limiting onsite visits from non-employees to our offices. If the need arises, our staff knows to follow any quarantine procedures and guidelines issued by governmental agencies.
As the Federal and local Health Authorities work to contain the spreading of the Coronavirus (COVID-19), organizations and individuals strengthen plans against the pandemic. Questions arising whether insurance would cover COVID-19 losses. The short answer is "it depends." Generally speaking many factors effect whether a loss would be covered under insurance including the type of loss, the type of coverage and the terms and conditions of the specific policies. We are currently working with underwriters and carriers to obtain further guidance on potential coverage areas. For further guidance on COVID-19, please see the links below:
CDC – Interim Guidance for Businesses and Employers
https://www.cdc.gov/coronavirus/2019-ncov/community/guidance-business-response.html
https://www.cdc.gov/coronavirus/2019-ncov/about/share-facts-h.pdf
World Health Organization
As you can appreciate this unprecedented global pandemic is an evolving situation, we at Dean & Draper Insurance Agency are committed to monitoring the rapidly changing situation and will respond to new information as it arises. We will provide updates on our website, social media and blogs.
Finally, while these circumstances are unique, you can expect the same exceptional service from our entire team. Thank you again for your business. Please stay safe!
Regards,
Kyle Dean
President & CEO