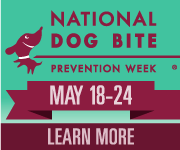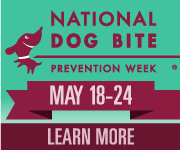 Over 70 million dogs live in U.S. households. While the Fido in your home may be as gentle as a lamb, not all dogs are as easy going as your best friend. In fact, more than 1/3 of homeowner insurance liability claims in 2013 were for dog bites and totaled more than $483 million according to the Insurance Information Institute and State Farm. Children are by far the most likely dog bite victims of the 4.5 million dog bites in the U.S. annually. To see more information about the Insurance Information Institute analysis of homeowners insurance claims, Click Here
Sunday, May 18 – Saturday, May 24 is National Dog Bite Prevention Week. For more information and great tips, visit the American Veterinary Medical Association website. Click Here
"All dogs have the potential to bite, but for most, biting is a last resort," said Victoria Stilwell, star of Animal Planet's hit TV series It's Me or the Dog. "If time is taken to raise, teach and socialize a dog correctly, the likelihood of a bite incident occurring is extremely low, explained Stilwell, a passionate advocate for positive reinforcement training methods. "Confident dogs have less need to use aggressive behavior."
Dog Bite Prevention Tips
Since children are by far the largest group of dog bite victims, here are a few tips for keeping kids safe – adults, too.
When you see a yellow ribbon on a dog's leash, keep your distance.

The yellow ribbon means that the dog doesn't like to be approached or petted by strangers.
Avoid unknown dogs especially if they are loose and wandering the neighborhood.
Always ask an owner for permission to pet their dog.

Owners will let you know if the dog isn't friendly.
The best exit strategy is confidently, quietly, walk away when confronted by an aggressive dog.

Children should stand still if a dog goes after them – "be a tree."
Dogs can be startled or frightened by people yelling, running, hitting, or making sudden movements toward them.

Approach the dog quietly and keep your movements slow.
Educate children at a level they can understand.

Focus on gentle behavior and that, just like people, dogs have likes and dislikes.
Teasing dogs by taking their toys, food or treats, or by pretending to hit or kick can provoke exactly the behavior you don't want.

Bullying isn't good for dogs either.
Avoid aggravating a dog by pulling ears or tail, climbing on, or try to ride them.
When the dog is asleep or eating leave him alone.

We all enjoy peace and quiet during a meal or when we're asleep.
Top 10 Dog Bite States
In the race to become the top state for dog bites, California came in first with 1,919 claims at an average cost of $33,709. New York had the highest cost per claim, $42,122 and came in second in number of claims, 965.
10. Wisconson – 449 claims, cost per claim $31,629
9. Arizona – 488 claims, cost per claim $27,503
8. Indiana – 503 claims, cost per claim $25,502
7. Texas – 775 claims, cost per claim $19,339
6. Michigan – 866 claims, cost per claim $24,700
5. Pennsylvania – 909 claims, cost per claim $29,078
4. Illinois – 914 claims, cost per claim $28, 941
3. Ohio – 948 claims, cost per claim $18,852
2. New York – 965 claims, cost per claim $43,122
1. California – 1,919 claims, cost per claim $33,709
Over half of the houses in this country are home to a dog, too. We hope you have found the information in this article interesting and useful.
Dean & Draper is a Trusted Choice insurance agency representing over 200 insurance companies. For over 34 years we have offered a trusted freedom of choice to our clients. Contact Us