Misc
|
Commercial Lines
CryptoLocker – Tech Alert from Dean & Draper
Posted by: Linda Kay | March 17, 2014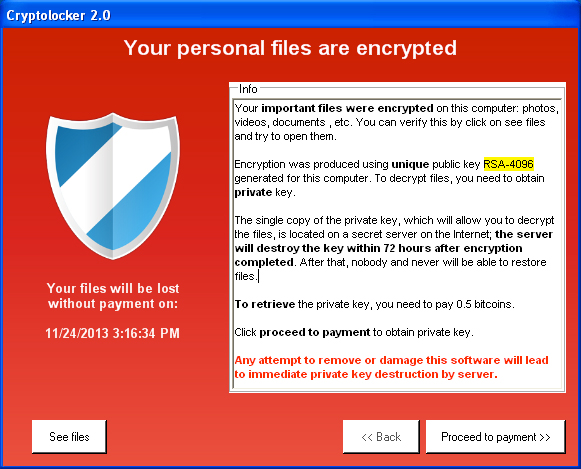 Contact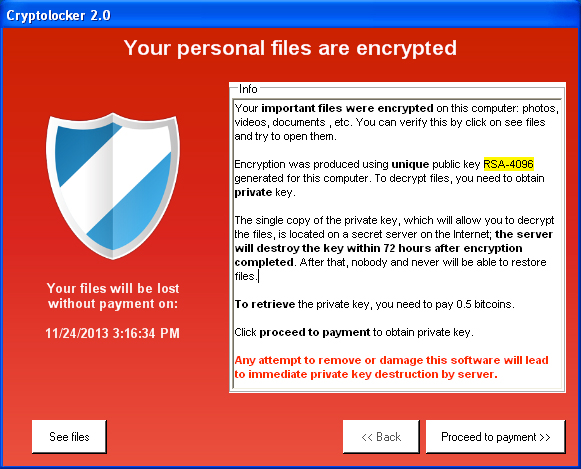 Ransomware – the Newest Cyber Threat for Business
Just when you think you've heard it all, cybercriminals add a stunning new twist. CryptoLocker, a ransomware Trojan, targets computers running Microsoft Windows. Taking kidnapping - a centuries old concept - into cyberspace is the new frontier for cybercriminals. Detected in September, 2013, CryptoLocker encrypts your files with a private key stored only on the cybercriminal's servers rendering the files unusable until a ransom is paid. CryptoLocker even includes a countdown clock – usually 72 hours. Refusing to pay the ransom means your files could be lost forever when the private key is deleted on the cybercriminal's server.
According to Dell SecureWorks the number of systems infected globally in the first 100 days of the threat is an estimated 250,000 systems. The United States, Great Britain, Australia, and France have the top infection rates. Currently the major targets have been small businesses. The concern is that these cybercriminals will become more aggressive and target larger companies.
To Pay or Not to Pay
Isn't that always the question? At this point, researchers consider the encrypted files unbreakable. So you would be left to determine how much data is lost and if your backup is recent enough to make a recovery possible. Note that payment is often, but not always, followed by the files being decrypted.
Protection
CryptoLocker typically shows up in your email as an attachment – frequently as a fake attachment to FedEx or UPS tracking notice. Security software is designed to detect such threats, yet it may not detect CryptoLocker at all.
Before an incident occurs, strengthen your computer defenses. Check with your IT professionals about beefing up your security protection including enhanced firewalls, stronger passwords, and additional employee training on spotting questionable emails.
If you don't have a relationship with an IT provider, take some time now to find a professional. The CryptoLocker encryption takes some time to complete so quickly removing the malware – a fairly simple process – may limit the data damage. If you suspect an attack in its early stages, contact your IT professionals immediately.
At Dean & Draper, we think part of our relationship with clients and friends is to warn you about potential menaces to your success. We hope that you will find these alerts useful to you and your business.
Dean & Draper is a Trusted Choice insurance agency representing over 200 insurance companies. For over 34 years we have offered a trusted freedom of choice to our clients. Contact Us.