Declaration of Independence - Interesting Facts
Posted by: Communications Team | July 5, 2021
Happy 4th of July!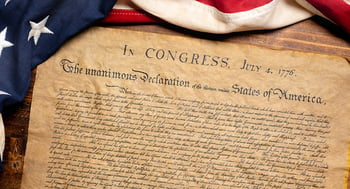 Wait, exactly when was the Declaration of Independence signed? We have some interesting facts about the approval, signing, and history of the Declaration for you today.
Writing and Signing
The Second Continental Congress met in Philadelphia on July 1, 1776, and voted in favor of Richard Henry Lee's motion for independence. The next two days were spent debating and revising the language of a draft written by Thomas Jefferson.
On July 4, 1776, the Congress officially adopted the Declaration of Independence. Almost a month would pass before the actual signing of the document. Most of the delegates would sign on August 2. Eight of the 56 original signers were born in the UK.
John Hancock signed the Declaration first with his large signature as the President of the Congress. Thomas McKean of Delaware is believed to be the last person to sign.
Six people signed both the Declaration and the Constitution – Benjamin Franklin, George Read, Roger Sherman, Robert Morris, George Clymer, and James Wilson.
Declaration Printing and Copies
Following the approval if the Declaration, Congress order that it be sent to John Dunlap, a printer. About 200 copies of the Dunlap Broadside were printed and dispatched across the 13 colonies.
These copies contain only John Hancock's signature since the printing predated the August 2 delegate signing. Only 26 copies of these documents survive.
Declaration on the Road
The Declaration of Independence spent years traveling around the country. Most likely it was filed in Philadelphia on August 2, 1776. When threatened by the British on December 2 of that year, Congress adjourned in Baltimore, MD where the Declaration remained until it's return to Philadelphia in March 1777.
During World War II the Declaration was moved to Fort Knox for safekeeping. Packed in a specially designed container with 150 pounds of protective measures surrounding the parchment the document traveled by train to Louisville, Kentucky where a calvary troop escorted it to Fort Knox. In 1944 the Declaration was returned to Washington, D.C.
What is on the Back?
Instead of a treasure map as described in the movie National Treasure, there is a simple message stating "Original Declaration of Independence dated 4th July 1776." Since parchments during the Revolutionary War years were normally rolled up for transport it is thought that the text was added as a label.
Dean and Draper
We wish you a great day celebrating our country's independence with family and friends. When you have insurance questions, we have the answers.
Dean & Draper is a Trusted Choice insurance agency representing over 200 insurance companies. For over 36 years we have offered a trusted freedom of choice to our clients. ContactUs.
The recommendation(s), advice and contents of this material are provided for informational purposes only and do not purport to address every possible legal obligation, hazard, code violation, loss potential or exception to good practice. Dean & Draper Insurance Agency specifically disclaims any warranty or representation that acceptance of any recommendations or advice contained herein will make any premises, property or operation safe or in compliance with any law or regulation. Under no circumstances should this material or your acceptance of any recommendations or advice contained herein be construed as establishing the existence or availability of any insurance coverage with Dean & Draper Insurance Agency. By providing this information to you, Dean & Draper Insurance Agency does not assume (and specifically disclaims) any duty, undertaking or responsibility to you. The decision to accept or implement any recommendation(s) or advice contained in this material must be made by you.
©2021 Dean & Draper Insurance Agency All Rights Reserved.
Sources: History, Military.com, Constitutional Center, Patch.